Waste Awareness Week #WAW18
L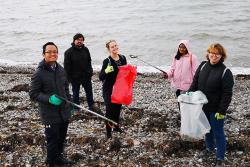 Some of the students taking part in the Beach Clean.ast week, Bangor University ran its second ever 'Waste Awareness Week' (WAW) between Saturday the 29th September and Friday the 5th October 2018. The campaign was launched to share ideas and raise awareness about the importance of resource efficiency both in the University and in Bangor City, to reduce our environmental impacts both locally and nationally and to encourage our students to become responsible global citizens.
The Sustainability Lab worked in partnership with Campus Life, Halls of Residence, Student Housing, Catering, the International Office, Gwynedd Council, the Chartered Institution of Wastes Management (CIWM) and British Heart Foundation Cymru (BHF) to run an exciting range of WAW activities and events during the week. These included a beach clean, waste awareness visits in student halls and private accommodation, waste career talks, a campus cleaning event, an information sharing day, recycling quizzes, a debate night, a film night and an eco-craft night, along with other smaller idea-sharing events.
On Saturday the 29th September, the Students' Union and the Sustainability Lab organised a beach clean, to kick-start this year's WAW. Around 50 students went to Dinas Dinlle beach, and did a fantastic job of cleaning the beach collecting approximately 30 bags of litter.
During Monday and Tuesday, the Sustainability Lab and Halls of Residence team along with student volunteers visited 349 flats/kitchens in student halls, looking at recycling behaviours, answering questions and providing recycling advice to just over 200 students. Gwynedd Council, Student Housing and the Student Union also visited students in private accommodation, visiting 336 properties, providing advice and support to 147 students on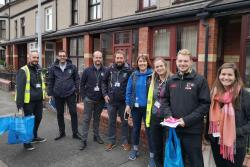 The team visiting student houses to share recycling advice.their doorstep, and subsequently delivering 46 recycling containers.
There was a Waste Career Talk open to all students on the Wednesday, organised by CIWM and the Sustainability Lab. Speakers were invited from Natural Resources Wales, Ynys Resources and the Sustainability Lab. The event promoted the benefits of professional membership to students and provided career advice within the waste and resources industry. Over 20 students attended the 90 minute seminar, with 7 students becoming members of CIWM during the week.
An information sharing day was held in Thoday reception on the Thursday, with stalls included the Sustainability Lab, Campus Life, Student Housing, Catering, Gwynedd Council, CIWM and BHF. It was opportunity for staff and students to discuss any issues regarding waste in the University and community, to learn about BHF and the University's reuse partnership, to purchase the University's newly launched reusable water bottles and coffee mugs, to join a professional organisation and to have a go at our online recycling game. Just over 60 students came to visit our stalls, along with a few members of staff.
In addition to this, the Campus Life team delivered a host of evening events with support from the International Office which included a recycling quiz, debate night, film night and eco-craft night. A Campus Clean-up was also delivered during the Wednesday.
We once again partnered with Makerere University in Uganda to deliver WAW across continents. This year's theme in Makerere was 'Reduce, Reuse and Recycle Plastics' and activities included strategic messaging, Think Tanks, community outreach to primary school children, a social media campaign, and collecting and sorting plastic waste for sustainable disposal.
WAW organiser and Bangor University's Campus Waste Coordinator, Gwen Holland said: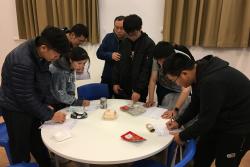 Some of the keen quizzers"WAW18 has been a great success, and was only made possible because of the dedication and teamwork of Bangor University staff, our external partners and of course, our students. We had an extensive range of events and activities throughout the week this year, which made it easier for students to participate in an area of particular interest. Student engagement and participation was much higher and we're pleased to note that the quantity and quality of recycling in our halls of residences had improved considerably since last year. We engaged face-to-face with just over 500 students during the week, left calling cards for those who were out and shared information on social media. I hope that WAW shapes both staff and student behaviour for the coming year, demonstrating that together, we can all make a big difference."
Deirdre McIntyre, Head of Residential Life added:
"The success of WAW2018 is testament to hard work and real collaboration between departments. We have enthusiastic students as partners in this project too, through the Halls' Campus Life Programme. This cross University working is the foundation for success in all our sustainability ventures."
Whilst Danielle Katz, MBA Environmental Management Student said:
"WAW was a great opportunity to get involved with helping students to better understand the recycling system. It was also wonderful to get the chance to engage with various waste professionals through the CIWM career event."
Publication date: 12 October 2018