Welsh booksellers turn to social media
Welsh bookseller's attitudes to social networking will be the subject of a pioneering new research project at the School of Creative Studies and Media at Bangor University.

Dr. Eben Muse, Deputy Head of the School, has received a grant from the Strategic Insight Program to work in partnership with the Welsh Books Council on the project over the coming months.

He will be working with D. Phil Davies, Director of Information and Promotion at the Welsh Books Council throughout the Spring.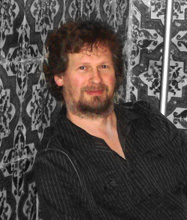 The project will research bookseller attitudes to social networking, the ways they are currently using it and what they consider impediments to its implementation.

"The aim is to help Welsh booksellers move on to the 21st century. Some of them are afraid of the new technology, or have no experience of using it," said Eben Muse.

"Other bookstores, like Palas Print in Caernarfon, are already making extensive use of the internet."

American inspiration

Eben Muse travelled around Massachusetts and Rhode Island last year in order to see how booksellers there made use of social media.

His father Ben Muse Jr. ran the Parnassus Book store in Yarmouth Port, Massachusetts for more than 50 years.

He was one of the first book store owners to make use of the internet – taking out a second mortgage to buy his first computer in 1981.

"During my trip to America I was able to interview the booksellers as to what was working and what wasn't, and gather their expertise," said Eben Muse.

"Using the internet is becoming more and more important, especially with the rise of e-books. They need a level playing field to compete with companies such as Amazon."

The results of the research will be published in a Welsh Books Council report.


Publication date: 16 January 2014