Welsh learners presented with their certificates on Shwmae Su'mae Day
A number of University staff who have been undertaking Welsh language courses have received certificates for their efforts today as part of Shwmae Su'mae Day, a day that promotes the use of Welsh by encouraging everyone to start chatting with simple greetings in the language.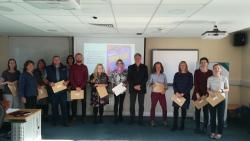 12 members of staff have succeeded in this year's Welsh for Adults WJEC exams, including 2 who have succeeded at Higher level, Dr Sian Davies, School of Healthcare Sciences and Professor Nathan Abrams, School of Music and Media.
In addition, 53 members of staff have gained a Welsh in the Workplace Certificate at different levels over the past year, adding significantly to the number of staff who can now use some Welsh in the workplace, be in the context of their work or socialising in Welsh with their colleagues.
Over 150 staff follow Welsh courses within the University and in the community, with courses available for people of all ability levels - from pure learners to those who have mastered the language and are studying for A Level qualifications - exemplifying the University's commitment to developing bilingualism among its staff and in placing bilingualism at the heart of all its activities. Indeed, this commitment to sustaining a bilingual ethos was one of the elements that he received special praise from the Quality Assurance Agency in its reports on the university published this summer.
For more information about Welsh language learning courses in Bangor and in the region, go to: https://www.bangor.ac.uk/cio/index.php.en.
Since the inaugural Shwmae Su'mae Day in 2013, the University has hosted a series of activities for staff and students to promote the use of Welsh on its sites and, this year, a whole week of events is being organised by Undeb Myfyrwyr Cymraeg Bangor (UMCB – the Welsh Students' Union); from chatting sessions to guided tours and from a open-mic nights to gigs with some of Wales' leading artists, there will be something for everyone, regardless of their ability in Welsh. For more information, contact UMCB President Gethin Morgan: gethin.morgan@undebbangor.com.
Presenting the students with their certificates, Professor Jerry Hunter, Pro Vice-Chancellor (Welsh Medium and Civic Engagement) said:
"It's a pleasure to present the learners with their certificates and congratulate them on their success. With 12 members of staff succeeding in their Higher exams, another 53 receiving a Welsh in the Workplace Certificate and 150 other staff members enrolled Welsh language courses this year, this is a tremendous boost to the University's ability to operate bilingually and to share and promote this organisation's unique culture with other staff and students."
Publication date: 15 October 2018