Welsh Minister for Culture visits site of iconic new Pontio Centre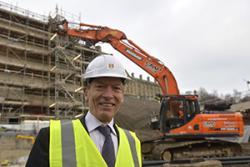 John Griffiths AM, Welsh Minister for Culture and Sport, visiting the Pontio siteWelsh Minister for Culture and Sport John Griffiths AM visited Bangor University's Pontio site on Thursday 23 January 2013.
Mr Griffiths toured the Arts and Innovation Centre, which will open in September 2014, with Bangor University's Vice-Chancellor Professor John G. Hughes.
Mr Griffiths saw the construction of Pontio's mid-scale theatre (Theatr Bryn Terfel), studio theatre, cinema, design and innovation centre, Students Union, spacious lecture theatres, social learning spaces, restaurant, bar, café and the many elements which make up the Centre's five multi-purpose floors.
John Griffiths AM said: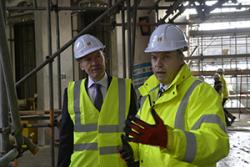 Director of Estates, Dylan Roberts explains developments on the site to the Minister "I was pleased to be visiting the Pontio site – a project which will be a huge boost for the arts in the region as well as for Welsh culture. I look forward to returning to Bangor to see the completed building and to see some of the fantastic events that are being planned. This project is a massive investment in Bangor and everyone can be really proud of having such a facility in the city."
Bangor University's Vice-Chancellor Professor John G. Hughes said:
"With less than a year to go until we open, activity on site and in the community is gearing up ready for our exciting opening season of artistic events. Pontio will be a focal point for the local community and University alike – a place to meet, eat, learn, be entertained and discover."
Pontio's artistic director Elen ap Robert said: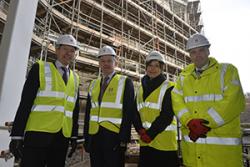 John Griffiths AM on site with Professor John G Hughes, Vice-Chancellor, Elen ap Robert, Pontio's Artistic Director and Dylan Roberts, Director of Estates at Bangor University"The performing arts and cinema spaces will be home to a wide range of art forms – from mid scale drama and dance to comedy and film, from aerial spectacle to gigs, large and small and from chamber opera to experimental and world music. It will be a hub for home grown talent and will offer the very best high quality cultural experiences from Wales, the UK and across the world."


Publication date: 24 January 2014