Welsh Minister of Education & Skills visits Bangor University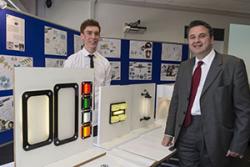 Adam Edwards (left), Product Design student with Huw Lewis AMThe Welsh Minister for Education and Skills, Huw Lewis AM, visited Bangor University today.
Mr Lewis visited both the 'North and Mid Wales Centre of Teacher Education' based at the School of Education and the School of Psychology's 'Centre for Mindfulness Research and Practice' (CMRP).
The Minister's visit to the 'North and Mid Wales Centre of Teacher Education' is at a time of far-reaching and exciting developments for education and initial teaching education and training in Wales following the recent publication of the Donaldson and Furlong Reports.
The Minister met with the Vice-Chancellor, Professor John G Hughes, senior leaders and students studying at the Centre. The Minister also attended an exhibition of the work of students graduating from the BSc Design and Technology with QTS programme who will be moving on to teach in secondary schools across Wales and beyond from September 2015.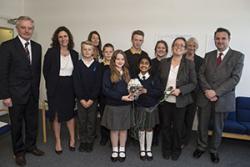 Professor John G Hughes, Vice-Chancellor (left) with staff and pupils of Ysgol Friars and Ysgol Pen y Bryn (Colwyn Bay), Dr Dusana Dorjee and sarah Silverton (Centre for Mindfulness Research and Practice) and Huw Lewis AM.Whilst at the Centre for Mindfulness Research and Practice, the Minister learned about latest research on the potential of mindfulness training in enhancing well-being in Welsh schools. A research team led by Dr Dusana Dorjee has been, over the last three years, conducting studies in primary and secondary schools in north Wales, evaluating the impact of mindfulness training on well-being of pupils and teachers and concentration of pupils. The research studies pioneered a new approach to assessment of the mindfulness outcomes in children – they focused on measures of changes in brain functioning of pupils recorded using a portable EEG system in schools. Initial findings from these studies were presented to the Minister during the visit, and their implications for a broader implementation of mindfulness into Welsh education was discussed.
With the increasing rates of mental health problems in children and adolescents, there is growing interest in introducing mindfulness into school curricula as a means to enhance well-being of pupils – reducing their anxiety and supporting their coping skills. Mindfulness is a form of mind training developing abilities of attention control and focus coupled with a non-reactive, non-judgmental attitude towards experience. Research evidence supporting the implementation efforts within the UK education context is limited at the moment, with two studies in English secondary schools suggesting improvements in well-being of pupils. The research conducted at the CMRP is the first in the UK to pilot and evaluate an implementation model where school teachers are trained in mindfulness first, and when they develop sufficient mindfulness practice, they are trained in the delivery of the mindfulness curriculum to their pupils. This model has cost-effectivity and long-term implementation advantages in comparison an external mindfulness teacher delivery since school teachers can deliver the mindfulness training to their pupils year after year once they have trained in mindfulness, if they sustain their practice.
Education Minister, Huw Lewis said: "I congratulate Bangor University on their ongoing research into mindfulness and how it can be used within the curriculum. This is an interesting area of work with lots of potential benefits for the emotional health and wellbeing of our learners and I look forward to seeing the more advanced findings in due course."
Summarising the available evidence on mindfulness in schools, Dr Dusana Dorjee said: "The initial results suggest that mindfulness training is beneficial to well-being of school teachers. In our studies we have found that about a half of the teachers trained in mindfulness are ready to deliver mindfulness training to their pupils within six months. Additionally, findings from other studies suggest improvements in the well-being of pupils.
"There is also preliminary evidence of improvements in academic performance of pupils – these possibly result from better ability to cope with stress, worry and anxiety through mindfulness. Overall, mindfulness training shows strong potential to support the development of self-regulation and well-being in children and adolescents with possible long-term preventative effects."
In addition to the overview of research findings on mindfulness in schools, the Minister's visit included feedback from primary and secondary teachers and pupils on their own experience of learning and teaching mindfulness in school. Questions arising from the research evidence and feedback were about the next steps for mindfulness in Welsh education including the potential for a county-wide pilot implementation, development of closer links between mindfulness researchers and education policy makers and ensuring that mindfulness is implemented in schools with integrity and fidelity.
Publication date: 4 June 2015