Welsh on tour
The School of Welsh is part of an ambitious national scheme to raise awareness amongst school pupils of studying Welsh for 'A' level and at university. In November, nearly 2000 pupils in 40 secondary schools will benefit from the scheme through a series of visits.
The scheme is sponsored by the Coleg Cymraeg Cenedlaethol and Welsh departments in Welsh universities have worked together to prepare a rich programme of workshops for Year 10 and 11 pupils in Welsh-medium schools throughout Wales.
The project is responding to the need to address the challenges facing subjects in the Arts and Humanities, including Welsh as an 'A' level subject and academic subject.
The scheme was officially launched at Ysgol Bro Edern, Cardiff East on Tuesday morning, 24 October in the presence of Alun Davies, Minister for Lifelong Learning and Welsh Language. The school has Year 12 pupils for the first time this year with five of them studying Welsh at A level.
The scheme was developed in consultation with the WJEC Welsh Subject Officer and Welsh teachers throughout Wales.
There will be two elements to the workshop - a session with the poets Rhys Iorwerth or Aneirin Karadog based on their poems in the GCSE Literature syllabus, and also a session conducted by the universities' Welsh departments, encouraging pupils to consider the benefits of continuing to study Welsh.
The aim of the interactive sessions is to bring the syllabus alive and also to spark the pupils' interest and enthusiasm in Welsh as a subject beyond the GCSE qualification.
There will be an emphasis in the universities' session on demonstrating the relevance of Welsh in everyday life in addition to showing how studying Welsh improves skills and offers unique career opportunities.
Attention will also be given to the exciting, diverse, and multidisciplinary nature of various Welsh degrees.
Professor Gerwyn Wiliams, Head of Bangor University's School of Welsh said:
"Following the Government's ambitious targets to reach a million Welsh speakers, together with the growing demand for graduates who can work confidently and professionally in Welsh, it is timely that Welsh departments in universities work together to promote Welsh as a subject. Bangor University's School of Welsh is delighted to be part of such an ambitious and exciting scheme that is also the result of working in collaboration with Coleg Cymraeg Cenedlaethol and the WJEC."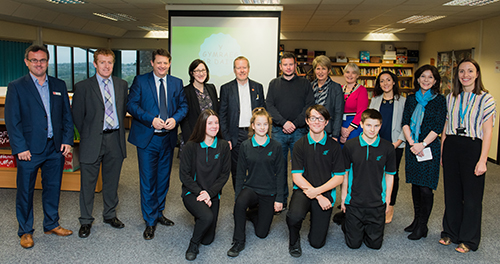 From left to right: Dr Dylan Foster Evans (Cardiff University), Professor Tudur Hallam (Swansea University), Alun Davies (Minister for Lifelong Learning and Welsh Language), Dr Cathryn Charnell White (Aberystwyth University), Professor Gerwyn Wiliams (Bangor University), Chief Poet Rhys Iorwerth, Llinos Lloyd (WJEC), Rhian Jones (Coleg Cymraeg Cenedlaethol), Dr Gwenan Schiavone (Coleg Cymraeg Cenedlaethol), Professor Mererid Hopwood (University of Wales Trinity St David), Eurgain Evans (Ysgol Bro Edern), and four pupils from Ysgol Bro Edern.
Publication date: 27 October 2017