Welsh Professor wins people's choice Award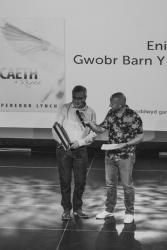 Peredur Lynch receives his Book of the Year Award.: Copyright Literature Wales / Llenyddiaeth Cymru / Camera SionedA volume of poetry written by a Bangor University Welsh Professor has won the golwg 360 Barn y Bobl prize (Welsh people's choice award) at the glittering 2018 Wales Book of the Year Awards.
Caeth a Rhydd by Peredur Lynch, Professor in Welsh had been shortlisted in the Welsh language Poetry category. Professor Peredur Lynch completed his first poetry volume while on a sabbatical at Harvard University's Department of Celtic Languages and Literatures.
Following the Ceremony, Peredur Lynch said:
"I'm pleased to have won this Award. This is a vote of confidence by the most important people in the literary world - the readers and book-buyers."
The volume, published by Gwasg Carreg Gwalch has already received enthusiastic reviews in literary periodicals such as Barddas ("a truly splendid volume" – Alan Llwyd), Barn ("exceptional poetry" – Derec Llwyd Morgan), and O'r Pedwar Gwynt ("the rich enchantment of old wine" – Gruffydd Aled Williams).
'Blodau Cymru: Byd y Planhigion' by Dr Goronwy Wynne, an Honorary Fellow of Bangor University who received his PhD from the School of Welsh, won the main Welsh Book of the Year prize and also won the Welsh-language Creative Non-Fiction Award category. Also shortlisted in the same category is School of Welsh graduate Anne Elizabeth Williams' 'Meddyginiaethau Gwerin Cymru', while Bangor University Honorary Fellow and former Wales National Poet, Dr Gwyneth Lewis' book 'Treiglo' was shortlisted in the Welsh-language Poetry Award category.
Speaking at the Awards Ceremony, Chief Executive of Literature Wales, Lleucu Siencyn said whilst thanking all the partners for their support of this prize:
"Wales Book of the Year is one of the highlights of our cultural calendar. It's vital that we have a national book award which gives a platform to all our literary genres – and treats our two languages equally. Wales consistently produces excellent writers, and this Award is testament to this each year. Congratulations to all of this year's winners!"
Administered by Literature Wales, the Wales Book of the Year Awards are presented annually to the best Welsh and English-language works in the fields of creative writing and literary criticism in three categories: Poetry, Fiction and Creative Non-Fiction.
Publication date: 27 June 2018