WhatUni Awards Success for Bangor University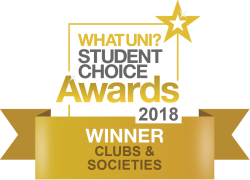 Bangor University has been chosen as the best in the UK for its Students' Union Clubs & Societies as well as its Student Accommodation in this year's WhatUni.com Student Choice Awards. The University was also placed third in the UK in the University of the Year category and second in the UK for Courses and Lecturers.
The latest accolade is a further endorsement of the quality of the courses, accommodation, facilities and students support provided by Bangor University. It follows another successful year which has also seen the University in the top 10 in the UK in the National Student Survey for student satisfaction and becoming the only University in Wales to achieve Gold standard in the UK Government's new Teaching Excellence Framework (TEF).
Professor John G Hughes, the University's Vice-Chancellor, welcomed the news saying:
"This is the fourth year in a row that Bangor University has won a national WhatUni Award. I'm delighted that the University has won two category awards, and these awards reflect our close working relationship with the Students' Union and our own students in order to provide an excellent education and all-round student-centred university experience. I'm grateful to our students for their support, and very pleased that they appreciate their time in Bangor. I would also like to thank the University and Students' Union Sabbaticals and staff for their fantastic efforts."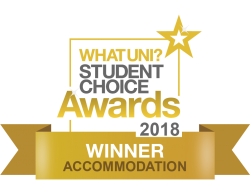 Pro Vice-Chancellor Professor Carol Tully said:
"We're delighted to regain the award for Best Accommodation. Our staff work tirelessly to ensure that our students get the most from their time in Halls. Our Campus Life Co-ordinators and Warden Team are committed to creating a close community. It's great that our students have acknowledged this once again. "
Mair Rowlands Bangor Students' Union Director said:
"We are absolutely delighted to have won the WhatUni 2018 award for Best Clubs and Societies, this is yet another amazing achievement for Undeb Bangor. Students are at the heart of what we do, and we achieve these awards by listening to our students, and working in partnership with them to ensure that the students of Bangor have the best possible student opportunities."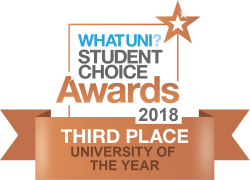 Simon Emmett, Hotcourses Group Chief Executive, said: "Our collection of almost 37,000 reviews gives voice to students' lived experiences of university and while there are challenges, the results delivered many positive comments about university experience that will help inspire prospective students faced with the difficult decision of where to study."
Bangor University was nominated for Awards in the following categories: Accommodation, Clubs & Societies, Courses & Lecturers, Giving Back, International, Job Prospects, Student Support, Best Prospective Student Engagement and Overall University of the Year.
Publication date: 20 April 2018