Wild swimmer teams up with university to look at microplastics in National Parks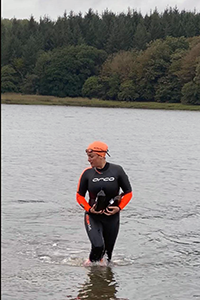 Laura Sanderson collecting water samples on her epic swim
A wild swimmer is visiting all 15 of the UK's national parks as part of a scientific expedition with Bangor University.
Throughout her epic swim Laura Sanderson will be collecting hundreds of water samples, which will be analysed at Bangor University for the presence of microplastics.
It is feared these tiny pieces of plastic will be present in even the remotest locations of our national parks.
Laura was inspired to organise the challenge after an initial swim she undertook last year found microplastics in Llyn Glaslyn, at the very top of Snowdon: England and Wales' highest mountain.
"Last year we swam 26 km from a lake at the top of Snowdon down the river system all the way to the coast," Laura said.
"We were horrified when we were told the water we'd collected along the way had microplastics in them.
"So now we want to see just how widespread the problem is and look at waterways in all our national parks.
"I'm swimming a total of 1,000 km throughout all 15 of the national parks and I'm hoping to complete the swims in just six weeks.
"Lockdown meant that my training was significantly affected and it's definitely going to be a challenge – but I'll be swimming through some of our most wild and fragile landscapes and the research that we are doing will help to highlight the environmental impact of microplastics in UK waters through scientific research which will help keep me motivated," Laura, who runs the non-profit environmental swimming organisation weswimwild.com, added.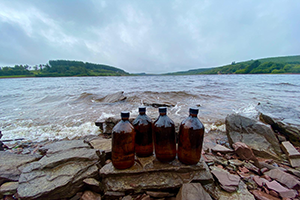 Samples which will be analysed by Bangor UniversityTeaming-up with Laura to run the analysis of the water samples is Dr Christian Dunn, a senior lecturer at Bangor University.
"This research is important because we need to know the scale of the problem of microplastics in our waterways, if we are to have any hope of tackling the problem.
"It would be nice to think that because some of the areas Laura will be swimming through are relatively remote they won't be affected by microplastic pollution – but unfortunately this is unlikely to be the case."
"How much plastic is in them though is something we need to find out," he added.
The environmental organisation Surfers Against Sewage (SAS) is partnering with Laura and Bangor University for the challenge.
Hugo Tagholm, the charity's CEO, said: "We're delighted to be partnering on this exciting new environmental expedition, which will provide unique scientific data from lakes, rivers and remote coastal locations to assess the scale of the microplastic pollution crisis and identify solutions.
"Microplastic pollution is now coming into sharp public focus and it's clear that urgent action must be taken to stop the flow of this increasingly insidious pollutant from our rivers to the ocean. Government and business leaders must legislate, innovate and collaborate to stop this plastic pollutant at source." Hugo said.
To follow the campaign swim on Instagram visit @weswimwild and to follow the campaign against microplastics visit the SAS website at www.sas.org.uk, or go to www.weswimwild.com.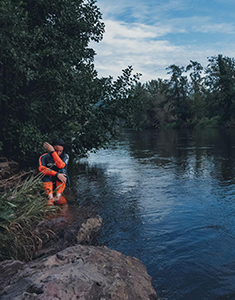 A quiet break from the epic swim
Timetable for swims (all are subject to last minute changes in timings and routes):
• Pembrokeshire: River Cleddau. Sept 1 – 2
• Brecon Beacons: River Cleddau. Sep 3 – 4
• Cairngorms: River Spey. Sep 6 – 11
• Loch Lomond and the Trossachs: River Falloch. Sep 13 – 19
• Northumberland: River Coquet. Sept 21 – 24
• Lake District: River Great/Eden. Sep 25 – 29
• Yorkshire Dales: River Ure. Oct 2 – 3
• North York Moors: River Esk. Oct 4 – 6
• Norfolk Broads: River Thurne. Oct 7 – 8
• South Downs: River Rother. Oct 9 – 10
• New Forest: River New Forest. Oct 11
• Dartmoor: River Dart. Oct 12 – 14
• Exmoor: River Exe. Oct 15 – 16
• Peak District: River Exe. Oct 18 – 20
Publication date: 14 September 2020