Winner of the CISI Educational Trust Award 2019
Congratulations to Jesper Ipland from Denmark on being awarded a Chartered Institute for Securities & Investment (CISI) Educational Trust Award. Jesper, who is graduating this week with a First Class BSc degree in Financial Economics, was the highest performing student out of those who applied to take the CISI examination at Bangor Business School. This was determined by his high mark in the Advanced Corporate Finance assignment.
Bangor Business School is a CISI Education Partner. This relationship helps to develop employability for our students in accounting, banking, finance and economics. The CISI Educational Trust Awards celebrate excellence amongst undergraduate and postgraduate level students.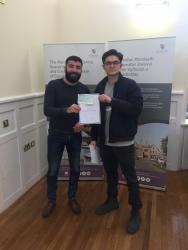 Publication date: 17 July 2019