World Health Organisation visits the School of Chemistry for Conference on TB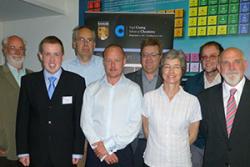 From left to right: Prof Mark Baird, Dr Mark Pitts, Bangor University; Ivor Langley, Tropical Disease Unit, Liverpool School of Tropical Medicine; Dr Chris Gwenin, Bangor University; Dr Edward Guy, Public Health Wales; Sally Williams, Dr Martin VordermeieBangor University's School of Chemistry were joined by scientists, government officials and representatives from the World Health Organisation for a conference on Tuberculosis testing and detection recently.
The Electrochemistry and Biosensors research group, headed by Dr Chris Gwenin, specialises in sensor technology. The group was funded by the Chemistry Biology Interface Division of the Royal Society of Chemistry to host the conference, the first ever of its kind in Wales. The event brought together scientists and government experts to present on different aspects of Tuberculosis (TB), from testing for the disease in humans and animals to the treatment and the restrictions that face farmers, clinicians, governments and scientists.
Dr Gwenin said, "This is the first time we have brought such a diverse group of experts together and every speaker looked at a different theme relating to the disease sensor design and implementation. The workshop gave a holistic view of the problems caused by this disease which gave all the experts a lot to discuss after the event, and fostered ideas for future collaborations. The workshop was such a success it is hoped that it will now become an annual event."
The event will enable the School of Chemistry to continue the development of the technology that will deliver unique point-of-care diagnostic devices for the diagnosis of mycobacterial-related disease, including tuberculosis, based on its proprietary lipid antigen technology.
The University has filed a number of patent applications in this field, and is seeking collaborative partners in public health and diagnostics to continue the research and potential commercial exploitation.
Publication date: 2 July 2013