World record semiconductor performance set to enable the internet of things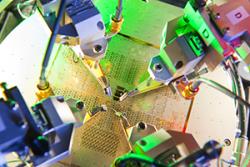 SmartKem's circuits undergo testing at the School of Electronic Engineering.Flexible electronics for the internet of things are now a reality thanks to new technology created by North Wales company SmartKem Ltd, with the help of scientists at Bangor University
Scientists at the School of Electronic Engineering have been testing SmartKem's semiconductor material truFLEX® and have demonstrated operating in electronic form at the frequencies required to make high-speed flexible electronics a reality.
This result demonstrates that the historic barrier of transistor speed, to realising fast, solution-printed electronics no longer exists and opens the door to a wide range of exciting application possibilities.
This new speed of operation of truFLEX® based electronics means that we will soon be seeing complex flexible electronics for RFID or NFC labels and sensors becoming ubiquitous. truFLEX® semiconductors have been designed for the low temperature, low-cost, production of thin film, flexible electronics, manufactured using solution-coat production techniques. High volume production of high speed, conformable electronics onto any surface is seen as the 'holy grail' of technology platforms needed to drive the growth of the 'the internet of things' (IoT).
In addition, the flexibility and durability of the truFLEX® technology platform coupled with the potential for high volume print production means circuits such as RFID or NFC tags (essentially electronic bar codes) could be applied to fast moving consumer goods (FMCGs).
Dr Mike Cowin, head of strategic marketing at SmartKem, adds: "If application to FMCGs is realised you could soon see the day where a trip to your local supermarket, will see you filling your shopping trolley and just walking out of the store – all products will be scanned by RF whilst in the trolley as you walk out and payment taken automatically via your smartphone or smartwatch."
The IoT has been talked about by techies for a while now and the advent of flexible electronic devices means information will be automatically collected and shared amongst people and objects geospatially, at home, in the office or on the move. The advantages of such a pervasive, ambient communication network will be fundamental in terms of improving health, lifestyle, work efficiency and general quality of life.
Professor Martin Taylor, from the School of Electronic Engineering said: "Bangor's involvement in this exciting project started some five years ago when we partnered on a research project supported by the Welsh Assembly and Innovate UK (previously known as the Technology Strategy Board). Using our specialist facilities we were able to identify the best processing conditions for producing high performance organic transistors. The results were used by SmartKem to support a number of patent applications. More recently, the Bangor/SmartKem team produced a 10-transitor circuit called a ring oscillator with the highest reported operating frequency for a solution-processed organic semiconductor. This is a really important result because ring oscillators are used as internal clocks in digital logic circuits and the faster they oscillate, the faster the logic circuit will work".
"These are exciting times," commented Steve Kelly, CEO and founder of SmartKem. "This is a great result and a testament to our capability in material and transistor expertise. This emphasises the enabling nature of materials innovation in driving forward the potential of flexible electronics, not just for application to smart, flexible electronics for the Internet of Things, for instance, but also the unique position it holds in enabling the growth of the flexible display industry. Bangor's assistance on this project has been essential, without their expertise we would not have been able to achieve such a fantastic result."
Publication date: 6 May 2016