Wrexham psychiatrist given lifetime achievement award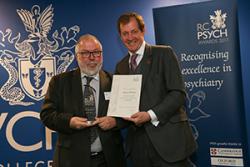 Prof Rob Poole (left) with Alistair Campbell.
Photo: Royal College of PsychiatristsA Wrexham based psychiatrist has received a lifetime achievement award from the Royal College of Psychiatrists for his tireless work to improve mental health services for deprived and marginalised people.
Professor Rob Poole was presented with the award by former Downing Street Press Secretary and mental health campaigner, Alistair Campbell, at a glittering awards ceremony in London on November 6th.
Professor Poole combines work as an Honorary Consultant in liaison psychiatry at Wrexham Maelor Hospital with his academic role at Bangor University, where he is a Professor of Social Psychiatry at the School of Social Sciences.
He has been recognised by the Royal College of Psychiatrists for his clinical, research, educational and policy making work in mental health over more than 30 years.
A celebrated academic, Professor Poole has written extensively on these issues, and has received international recognition for books he has co-authored on clinical skills in psychiatry and the link between mental health and poverty.
He co-founded the Centre for Mental Health and Society research centre in 2012. The Centre is leading an international group to understand and reduce suicide and self-harm in south Asia (the South Asia Self Harm Initiative: GCRF-SASHI).
Paying tribute to Professor Poole's success, Alberto Salmoiraghi, Medical Director for Mental Health and Learning Disabilities at BCUHB, said:
"This award is a recognition of Rob's lifetime contribution to improve mental health services as a frontline clinician, through public debates, the media and more recently through international research.
"His challenging style stimulates different ways of thinking and he's often raised the profile of mental health."
Professor Poole said: "I am astonished to have been given this Award, but I am very proud that it has come to north Wales and to a social psychiatrist.
"Early in my career I realised that the greatest burden of mental ill health falls on people who have the least financial and personal resources. I believe that establishing good quality user-friendly psychiatric services for those who have least is an essential part of the general struggle against social injustice and inequality."
Source: Betsi Cadwaladr University Health Board
Publication date: 9 November 2017