Young Chemists find the measure of beer!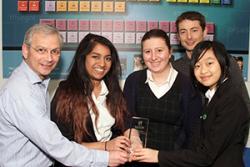 (l-r) Caitlin Pierce, Elin Wynne and Alice Ma, being presented by Dr Mike Becket, head of Bangor University's School of Chemistry, with their teacher Mark Hannat, a Bangor University Chemistry graduate.UPDATE:
Congratulations to Caitlin, Elin and Alice on winning the Royal Society of Chemistry Schools Analyst Competition at the Final Round held in Aberdeen and bringing the winners shield back to Ruthin School (following the School's previous win in 2009). The three students will be the only ones in the UK with this honour on their UCAS personal statements, and we wish them the very best for their future!
Teams of young chemists from schools in north and mid Wales and the borders played the role of forensic chemists, checking the alcohol content of beer samples, as they competed in the regional final of the Royal Society of Chemistry Schools Analyst Competition at Bangor University recently.
In the competition scenario and challenge set the 'A' Level Chemistry students, they had to work to professional standards and produce high quality data that could be used in a courtroom in testing the strength of beers seized by trading standards officers. They had to measure the content of ethanol in samples that were illegally imported.
Providing a 'real-life scenario' for the competition illustrated one of the many roles the chemist plays in the modern world. The teams were assessed on skill, understanding and accuracy, as well as teamwork and safety in the lab.
The winning team from Ruthin School will be joining other UK schools for the finals which are to be held at Robert Gordon University in Aberdeen in June this year.
Second place went to Coleg Cambria in Deeside and third to Ysgol David Hughes in Menai Bridge.
Mark Hannant, chemistry teacher at the winning school said:
"This year's experiment at Bangor University was incredibly well pitched and allowed the students to deploy skills from organic, physical, inorganic and analytical chemistry. Our students are thrilled to be flying up to Aberdeen to represent Ruthin School and all of north Wales in the national final. I hope that we can replicate the success of 2009 where we won at the final in Plymouth."
"Alice, Caitlin and Elin all agreed that the competition was enjoyable and challenging. They all benefitted from the experience of working in a university laboratory and were thrilled that the judges recognised their skills. They said they are honoured to be representing North Wales in Aberdeen."
Dr Lorrie Murphy the organiser of the event said: "We were delighted to receive generous sponsorship from Thermo Fisher Scientific. We were very impressed by the enthusiasm and high standard of the competitors this year. We wish Ruthin lots of luck for the final in Aberdeen in June."
Publication date: 14 May 2015