Ysgol Bro Lleu pupils to feature in festival
Pupils will be using body percussion to create their own compositions at top festival in north Wales.
9 and 10 year old pupils from Ysgol Bro Lleu, Penygroes have been invited to take a significant part in an event at the Bangor Music Festival, which takes place in Pontio arts centre on 8 and 9 February.
They will write their own group composition using a combination of sounds from conventional percussion instruments and body percussion. The project will give a rare opportunity for year 4 and 5 pupils to explore music in an unusual way and to increase their confidence in performing in a group, especially in front of the festival audience.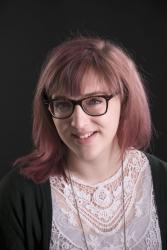 Sarah Lianne LewisThe workshop leader and talented young composer, Sarah Lianne Lewis said: "In the current climate where music is being side-lined by the government in favour of STEM subjects, we are in danger of children not having access to a free musical education. Through this project – and one I ran two years ago with the Bangor Music Festival – it is encouraging to see just how much the children thrive and flourish when encouraged to be creative and explore music without boundaries."
According to the festival's artistic director, Dr Guto Pryderi Puw, a Senior Lecturer in Music and Head of Composition at Bangor University, the two-day festival will feature numerous educational and community events alongside musical concerts that is closely linked with the theme, acoustics.
He said: "Being able to work with local schools to further enhance their music provision is very high on the festival's priorities, since we are investing in the future. Music should be available for all with anyone participating and with this project we are directly engaging with pupils in the creation and performance of music."
Welsh composer Sarah Lianne Lewis, who lives in Penarth outside Cardiff, will also have her own compositions featured in the festival, with UPROAR ensemble performing her work 'mind the gap' in Theatr Bryn Terfel, Pontio soon after the Bangor New Music Ensemble's performance of her 'Those Echoes Around' earlier in the afternoon.
Sarah said: "When I was in child, we had several music workshops in school, exploring music and dance, and African percussion amongst other things. These workshops helped me explore patterns and creativity that helped shape me as a growing musician. I hope that the experience of being part of this festival will encourage the children to think creatively and enjoy music-making as I did."
Over the past two weeks Lewis has visited Ysgol Bro Lleu in Penygroes to lead 2 composition and performance workshops focusing on various musical elements, particularly rhythm and repetition. The composition will be featured within the event Boom 2, alongside other pieces for an ensemble of boomwhackers, played by music students from the School of Music and Media Bangor University.
Other artists that are featured in the festival includes the Beaumaris based flautist Richard Craig alongside Bangor University based Electroacoustic WALES during the 1pm concert.
The Friday evening sees the unusual Swansea Laptop Orchestra performing new compositions by six Welsh sound artists using Xbox game controllers to create and perform the music.
Marie-Claire will be involved with the Camau Nesaf Cerdd project focusing on 'echo' and are aimed at different age groups, for children aged 15 months to three years of age and from four up to seven.
Publication date: 8 February 2019