Bangor University assists with GCSE Revision
School pupils throughout Wales will be able to get extra revision help as a result of Bangor University's latest support for GCSE Science subjects.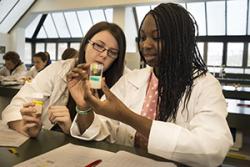 Around 500 youngsters put their Easter holidays to good use by attending GCSE Science revision courses at Bangor University. This year for the first time the University introduced GCSE Physics and Biology revision courses for Year 11 pupils, in addition to the existing Year 10 courses in these subjects. The Chemistry revision courses for Year 10 and Year 11 pupils have been in existence for several years, and are held each year with the support of the Reaching Wider Partnership for North and Mid Wales.
The pupils from schools in Gwynedd, Conwy and Môn spent a day at the University being put through their paces by experienced Science teachers. As well as working on exam questions and revision worksheets, the pupils also got a chance to gain some practical experience in the University laboratories.
The pupils who attended all went home with a specially-prepared bilingual revision booklet which - thanks to a National Science Academy grant from the Welsh Government. This will now be distributed to schools throughout Wales. For the first time, the revision material will also be made available on-line via the University website so that teachers, pupils and parents throughout Wales will be able to access the additional revision help in the run-up to the GCSE Science exams.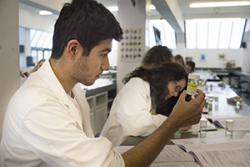 "We're delighted to have been able to extend the GCSE Science revision courses to Year 11 pupils this year," said Carys Roberts, Head of Student Recruitment at Bangor University. "The courses were well received by all who attended, and it's great that the revision materials produced for the courses will now be distributed to schools throughout Wales as a result of the support from the Welsh Government's National Science Academy."
"We know from last year's feedback how much schools appreciated the bilingual revision booklets we sent to them. Many of them commented on the usefulness of the booklets, and how they were a concise, user-friendly additional resource. This year by also making the revision material accessible on the University website, then we hope that even more pupils will be able to take advantage of this additional revision help," she added.
Bangor University's Vice-Chancellor, Professor John G Hughes, was hopeful that the GCSE revision courses and revision booklets would raise both the pupils' motivation and their attainment in science.
"By providing the revision courses and producing accompanying revision material, we as a University are aiming to support schools both locally and nationally in the delivery of GCSE Science,"
"By helping to raise their attainment and develop their interest in Science, we hope to see more pupils choosing to go on to study Science courses at a post-16 level and then at university, said the Vice-Chancellor.


Publication date: 6 May 2014