15th
in the UK for Graduate Prospects (Radiography)
Complete University Guide 2022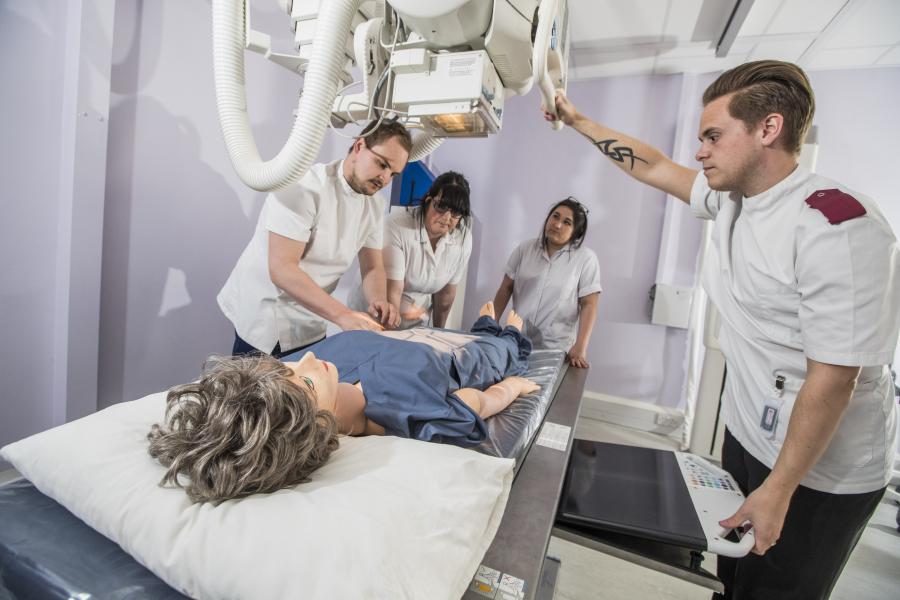 Why Study Diagnostic Radiography?
The BSc Diagnostic Radiography course at Bangor University (which is taught from Bangor's Wrexham Campus) will equip you with a unique mix of technology and people skills that will make you highly employable. You will learn not only about how x-rays are produced and the anatomy of the human body, but also how to talk to people and what sort of things patients/service users may be concerned about.
Watch - Studying Radiography
S4C TV Presenter Ameer Rana introduces the Radiography degree taught at the School of Health Sciences at Bangor University's Wrexham Campus.
Student Profile Kara-Ann Edwards
Diagnostic Radiography
Kara-Ann Edwards discusses studying Diagnostic Radiography at Bangor University.
Career Opportunities in Radiography
100% in work or further study after 6 months (Unistats 2020)  
As a Bangor graduate in Diagnostic Radiography your career prospects are excellent. Over the last 11 years our graduates have found 100% employment within 3 months of graduation, mainly within the NHS. 
Once employed, your career development is linked to continuous professional development and with additional in-work training you can specialise in a particular imaging modality or further develop your career within Radiography as an advanced or consultant practitioner.
As well as working within the health service, radiographers can also go on to work in the commercial sector. Possible careers include working as applications specialists providing training on the correct use of equipment to others, sales, and Informatics. Radiographers use cutting edge technology in the field of informatics in the UK. All imaging in the NHS has been digital since 2010, therefore you'll have a vast knowledge base to support informatics in other areas of health, giving you additional career flexibility.
Our Research in Radiography
Top 20 (of 94) in the most recent assessment of research quality with 95% of research either internationally excellent or world-leading (REF 2014) 
Our research groups are all part of the Bangor Institute for Health and Medical Research (BIHMR). We are building on BIHMR's success in REF 2014 to sustain and grow excellence in health, medical and social care research. We conduct research of the highest standard, with UK and international impact that contributes to improvements in local health and healthcare, as well as making an impact across Wales, the UK and internationally.
Related Subject Areas
You may also be interested in these related subject areas.
Related Subject Areas
You may also be interested in these related subject areas.