Student Profile: Clodagh May Colbeck – BA French, Italian and Spanish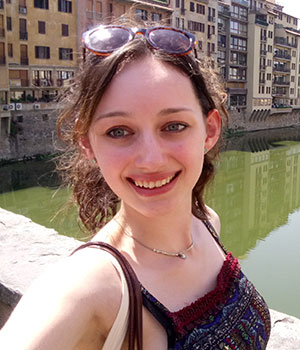 Clodagh May Colbeck
Clodagh May Collbeck is originally from the Wirral, and is studying French, Italian and Spanish at Bangor. She tells us about her time here.
Why did you choose to study at Bangor?
My initial interest in Bangor University was sparked by the fact it was the only university I found which offered the Three Language degree programme, where all three languages were given equal weighting in terms of credits, as well as the opportunity to spend a semester abroad for each of the languages studied, rather than having to compromise one language to spend just one year abroad (two semesters). Then following my visit to Bangor on the open day not only was I even more impressed with the course and department, but I also felt at home in the beautiful setting and friendly atmosphere of the relatively small university and town.
What have you enjoyed about your course?
I chose this degree not only because I could continue to study the two languages I took at A level while also starting a beginners language, but also because of the language focus. The Three Language degree programme doesn't include any additional culture modules, which means 100% of your modules and credits are focused on your ability to comprehend and communicate in the languages studied, which was exactly what I wanted. I am exposed to the culture naturally while learning the languages; by watching foreign television, reading foreign books and visiting the countries in question on my semesters abroad; so I definitely do not miss out on the culture aspect of studying languages.
The relatively small department also means class sizes are fairly small, meaning you benefit from close student-staff relationships, so if you have any difficulties the staff are easy to approach. The small class sizes also mean the students all get to know each other well and a friendly working environment is present during lectures and classes. This may sound like an odd aspect of the course to enjoy however I do like the assessments and the way they are organised. The course is part coursework, part exams. The balance and variety of assessments not only takes account of the many skills required in languages but also works on the strengths of different students, and much of the coursework can very much be tailored to your personal interests. In terms of exams, the lectures and materials given throughout the year definitely make them more manageable and less daunting experiences.
What have you enjoyed about being a student at Bangor?
I'm sure everyone would say this about their own universities, but being a student at Bangor really is a very unique experience in my opinion. The small size of the university and town creates a real sense of community and it's amazing the amount of people you can get to know in such a short space of time and develop such close attachments to the people and the place. Without a doubt the setting of the university definitely is a huge advantage, with the Menai Strait and Anglesey nearby, and beautiful beaches of North Wales, as well as Snowdonia National Park all easily accessible to students, and I took the opportunity to climb Mount Snowdon at the end of my first year. There is also a real sense of work-play balance at the university, with the many free clubs and societies which the Student Union has on offer, there is definitely something for everyone. The student nightclub Academi also creates a cosy student atmosphere, as it is a relatively small place and everyone gets to know everybody, and there are the weekly student nights which attract different crowds of people. This fairly small North Wales city definitely should not be underestimated for student experience and satisfaction.
Has the University been supportive?
I wouldn't hesitate for a second to praise the support which the university and particularly the staff of my department provide their students. From the minute I walked through the doors as such and into my first lectures I felt at home in the friendly atmosphere and faced with approachable staff. The atmosphere created by the university also encourages a supportive atmosphere amongst the students, especially in this relatively small university where you quickly get to know everybody, the student community is definitely a harmonious one.
Did Bangor University help you prepare for your time abroad?
I am currently preparing for my first placement abroad in the second semester of my second year, which is a bit daunting as I feel I have only just arrived at the university and I am already jetting off. However the meetings in preparation for your placements start early, especially for students studying the Three Language degree programme, which makes you feel more at ease and prepared as you have plenty of time to ask questions and get all the right forms together. The organisation amongst the staff is also very clear, so you know exactly who you have to go to in order to get answers to certain queries you might have. I haven't personally experienced time abroad yet with the university, however I have been told by 4th years returning from their placements how supportive the staff were even when they were miles away.
What are you hoping to do in the future?
I have chosen this degree because I enjoy learning languages and immersing myself in different cultures. I haven't got any concrete ideas about my future paths, however teaching in secondary schools and translating are ideas which appeal to me, as well as career paths such as journalism and publishing. Perhaps things will become clearer following my experiences abroad.