Student Profile: Will Hakesley – German and Chinese with French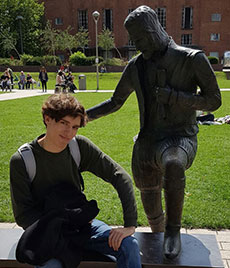 Will Hakesley
Will is originally from Worcestershire, and is studying German and Chinese with French.
Why did you choose to study at Bangor?
I chose Bangor because it is a popular university for international students, which is an obvious plus for language students. It's in a nice location for moving away from home, being so close to Snowdon and the coast, and the main university building itself is much more attractive than other universities. I also really liked the size of Bangor because it reminded me of my home town.
What have you enjoyed about being a student at Bangor?
Because lectures are in small groups, you get to know people much easier, other students as well as lecturers. I also spent a lot of my time at Langsoc (Language Society) events, it held lots of welcoming events in the first few weeks so it was easy to make friends on my course. As well as Langsoc I went along to Chinese nights run by CSSA, an international Chinese student society, there were both UK students and Chinese students to practise with.
What have you enjoyed about your course?
I enjoyed that the course meant I had to read and watch foreign books, articles, films and TV shows; it gave me an incentive to practise reading and listening, that helped especially in French which I started in my first year.
Has the University been supportive?
Pastoral care at Bangor is so much more helpful than I've seen anywhere else, I've never seen a lecturer or personal tutor turn down a student who asks for help, for personal or academic issues. Personally I found tutors very understanding when I was looking to add French to my degree, three quarters of the way through the year. My lecturers also gave good advice when choosing my topic for speaking presentations.
What are you hoping to do in the future?
In the future I want to spend my year abroad working in Germany and studying at the Beijing Foreign Studies University in China.