"Addressing Marine Plastic Waste as a Climate Change Adaptation Priority in Indonesia"
Virtual Workshop
31st August - 2nd September 2021
Apply to be an Early Career Researcher Participant here.
Deadline: 31st July 2021
Register your interest to attend public sessions and panel discussions here.
Deadline: 1st August 2021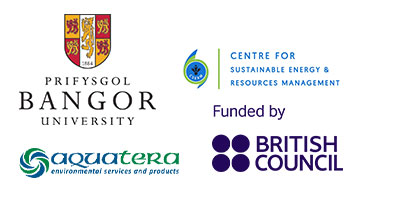 Overview
A British Council-funded Researcher Links 'Climate Challenge' Workshop titled "Addressing Marine Plastic Waste as a Climate Change Adaptation Priority in Indonesia" will he held virtually on MS Teams between 4th – 6th August 2021.
This workshop is being delivered collaboratively by Bangor University, Wales UK; the Centre for Sustainable Energy and Resource Management in the Universitas Nasional, Indonesia; and Aquatera, specialists in environmental and operational support for marine, coastal and land-based activities.
Bangor University, Wales, UK: https://www.bangor.ac.uk/
Centre for Sustainable Energy and Resource Management in the Universitas Nasional, Indonesia: https://cserm.unas.ac.id/
Aquatera: https://www.aquatera.co.uk/
The Workshop is aimed at stimulating innovative research connecting the interlinked issues of climate change and plastic waste ahead of the UNFCCC's COP26 which will be held in Glasgow in November 2021.

Workshop Themes
Climate change and marine plastic waste are endemic issues facing Indonesia, affecting approximately 187 million people living on the Indonesian coast. Yet the way in which climate change and plastic waste are connected problems is not comprehensively addressed in scholarly literature or through domestic or international processes. Sea-level rise and climate change-related shifts in monsoonal winds are expected increase the accumulation of marine plastic waste along the Indonesian coastline. Indonesia's recently launched action plan to reduce marine plastic waste does not refer to the exacerbating effects of climate change, and its National Action Plan for Climate Change Adaptation does not refer to marine plastic waste as an adaptation risk.
Evidence is needed to determine the exact risks to and vulnerabilities of coastal communities in Indonesia, and to develop appropriately joined-up policy responses. This interdisciplinary and multi-stakeholder Workshop will explore the evidence required to connect the plastic waste and climate change problems in Indonesia. In addition, after the workshop concludes, three interdisciplinary research projects developed by workshop participants will be funded to produce evidence for the development of joined-up policy-making going forward.
This interdisciplinary project responds strongly to the COP26 priorities of adaptation and resilience and it is being delivered by a project team comprised of experts in climate change law, marine conservation, plastics, ecosystem services, and capacity building from Bangor University, CSERM UNAS and Aquatera.
Workshop Aims
The aims of the Workshop are as follows:
i. To develop an evidence base connecting the problems of marine plastic waste and climate change adaptation in Indonesia.
ii. To stimulate research between the UK and Indonesia which examines the causes as well as the consequences of the combined problems of marine plastic waste and climate change adaptation in Indonesia
iii. To catalyse interdisciplinary research projects that integrate scientific knowledge with an understanding of national and international development processes related to climate change and plastic waste.
iv. To develop the capacity of early career researchers to build and lead interdisciplinary and gender-balanced research teams
v. To support early career researchers to develop fundable project proposals that provide an evidence-base for policy making and action
vi. To create a dynamic and responsive network of researchers in the UK and Indonesia who have the capacity to become mentors of future early-career researchers responding to complex and inter-connected global challenges.
The Workshop will be designed to encourage debate and discussion between participants, Mentors and invited presenters from academia, governmental departments, international organisations, the
private sector and local communities. This will encourage lateral thinking, flexibility, and adaptability in working together to create strong links between UK-based and Indonesian researchers and institutions to conduct research that is focused on reducing the risks and vulnerabilities of coastal
communities in Indonesia. Participants will leave the Workshop with experience in building a case for action based on robust evidence, an understanding of the processes involved in developing successful interdisciplinary research projects, and with a network of contacts through which future research related to the problems of climate change and plastic waste can be developed.
Challenge Prizes
Three 'Challenge Prizes' will be awarded to successful applications made by Workshop participants. The total value of each prize will be between £7,500 and £15,000. A maximum total of £30,000 will be awarded for all three prizes.
Only participants can apply for Challenge Prize funding, and applications must be received within 3 weeks of the Workshop conclusion. Details of the application process will be shared with participants prior to and again during the Workshop. Decisions on applications will be made within one week of the application deadline and all Challenge Prize-funded projects will be required to conclude before February 2022.
Winning projects will be selected according to pre-determined criteria that evaluates the interdisciplinary composition of the project team and the interdisciplinary nature of the project; the gender balance of the team and the extent to which the applicants involve researchers who have encountered difficulty in successfully securing research funding to date; the value and significanceof the project in responding to the inter-connected problem of climate change and plastic waste in Indonesia; the ways in which applicants intend to engage with domestic and international processes (such as COP26 or Indonesia's NAP process) to achieve short, medium and long-term impact with their research projects; the extent to which the project stimulates future research and successful grant capture; and the risks involved in the proposed activities and research. Each application for a 'Challenge Prize' must include at least 2 participants from the Workshop, one UK-based
participant and one Indonesia-based participant. Mentors will support participants to develop their proposal ideas both during and after the Workshop. One Mentor will be assigned to each of the three funded projects and Mentors will provide ongoing support to those who have won a 'Challenge Prize' on a regular and ad hoc basis as needed.

Questions or Further Information
If you have any questions or require further information, please contact:
Dr. Peter Robins
Bangor University
p.robins@bangor.ac.uk
Dr. Asep Adhikerana
CSERM UNAS
asepadhikerana@gmail.com