Bangor Law School and Linenhall Chambers
On March 1st 2013, Bangor University's Law School entered a historic new partnership with Linenhall, one of the UK's most respected Barristers' Chambers.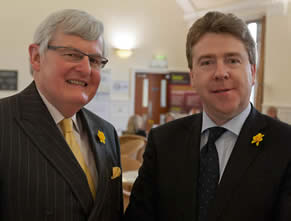 The partnership will see a new suite open at the University, bringing local lawyers from North West Wales onto campus on a frequent basis, not only in close contact with Linenhall Chambers, but also with the Law School.
As part of the relationship, Bangor Law School students will get to experience the sharp end of legal practice by shadowing Barristers through a scheme of four week internships, or 'mini-pupillages'. Mini-pupillages are very difficult to come by, but are an impressive addition to any Law student's CV. They are particularly important to aspiring Barristers, as they are seen as a key part of trying to establish a career at the Bar.
Anthony O'Toole, Head of Chambers at Linenhall Chambers (left), is pictured with Head of School Professor Dermot Cahill at the launch)
Read the press release.