Bangor Law School's Class of 2012 celebrate Graduation
Bangor Law students celebrated their academic achievements on Monday, 16th July 2012, as the School celebrated the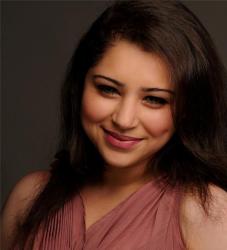 Batool Al Mohsinpassing out of this year's graduating cohort.
Among this year's success stories was Batool Al Mohsin from Bahrain, who graduated with a first class degree in Law with Business Studies. She was one of only four winners of the University's prestigious Dr John Robert Jones prize, which is awarded annually to the students graduating with the best marks from any Bangor University degree scheme.
"Winning the Dr John Roberts Jones prize is one of the happiest moments of my life" said Batool of the award. "I have worked hard to attain this result, but without the guidance and support of all my lecturers, I would not have achieved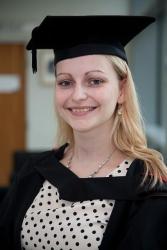 Kate Longsonthis honour, so I would like to thank them for their encouragement. This award has given me the motivation to work even harder in my Masters and the confidence to pursue my dream of becoming a lawyer."
LLB Law student Kate Longson, from Staffordshire, also graduated with first class honours, and is now set to commence the Bar Professional Training Course (BPTC) having won Lincoln's Inn's highly competitive Lord Denning scholarship, worth £15,000.
Also graduating this year were local students Joshua Simpson and Iwan Emlyn Jones, who, during the second year of their legal studies, established Street Law, a student-led initiative which aims to improve legal understanding in the local communities.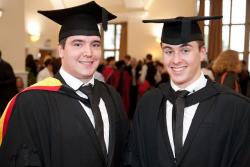 Joshua Simpson, left, and Iwan Emlyn JonesWhile Joshua and Iwan will now move on respectively to the Legal Practice Course and Gwynedd Council's management training scheme, Street Law will continue to run for the benefit of Bangor's current and future students.
This year's ceremony included only the third Honorary Fellow to be appointed by the School in its history. An Honorary Fellowship is the highest honour that the University can bestow, and it is usually awarded to individuals with a connection to the University or Wales. This year's recipient was Professor Malcolm Evans, Professor of Public International Law at the University of Bristol. He is one of the UK's most distinguished international lawyers, and in 2004 he was awarded an OBE by Her Majesty Queen Elizabeth II for services to the prevention of torture, and the promotion of religious liberty. Professor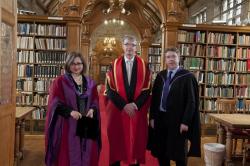 Professor Malcolm Evans OBE, centre, with Bangor's Professor Suzannah Linton (left) and Head of School Professor Dermot Cahill (right)Evans's Honorary Fellowship comes as the School prepares to launch the Bangor Centre for International Law, and as it was announced that he will deliver master classes to students in areas such as Law & Religion, the Prevention of Torture and Respect for Human Rights.
Publication date: 26 July 2012