Bangor through to second round of OUP Moot
Bangor Law School has made it through to the next round of the Oxford University Press Moot, one of the most prestigious and popular mooting competitions in the UK.
In a thrilling contest held in the School's own moot courtroom, second-year undergraduates Bethan Celyn Williams and Annabelle Elizabeth Bennett beat Salford University to win a place in the final 30.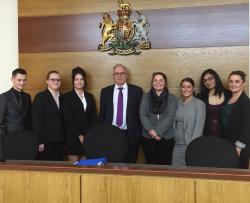 Annabelle and Bethan (second and third from left, respectively) have made it through to the next round of the OUP Moot
Presided over by 'Judge' Hugh Davis, Partner at Carter Vincent Solicitors, the moot scenario focussed on an unfair contract terms argument. Team Bangor put forward a remarkable appeal case which saw them take a four point lead over Salford and ultimately win.
They now go through to round two, and will next face Manchester Metropolitan Univerisity in February.
"This is a remarkable achievement for Bangor Law School, and a strong endorsement of our mooting tuition", said Professor Dermot Cahill, Head of School. "Both Bethan and Annabelle are students on our new Advanced Mooting and Legal Ethics module, which provides students with a valuable opportunity to enter prestigious competitions, whilst receiving formal coaching and gaining academic credit for their work."
He added: "we congratulate Bethan and Annabelle, and also thank the following staff members for their help and support: Stephen Clear, Dr Marie Parker, Tom Perry, Chaynee Hodgetts and Dr Yvonne McDermott Rees."
Publication date: 8 December 2015