Final-year Law student Benjamin qualifies for European triathlon
A Law undergraduate is gearing up to compete in a gruelling European sprint triathlon.
21-year old Benjamin Pritchard, a third-year LLB Law student, will join fellow Bangor students James Briscoe and Owen Mitchell at the ETU Triathlon European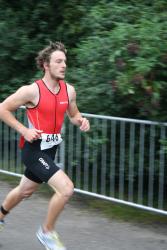 Third-year Law student Benjamin Pritchard will compete in a European triathlon in Turkey next month.Championships in Alanya, Turkey, next month. The short-distance triathlon requires competitors to swim a distance of 750m, cycle 20km and run 5 kilometres.
Benjamin is now juggling his final year studies with an intense training programme in preparation for the championship, which kicks off on 14th June. "I train anywhere between 15 and 18 hours a week alongside being a full time undergraduate student", he said. "Many might find it an unbelievable task to fit all the hours in, but I have found that training and studying go hand in hand. When my body feels fit, my mind also feels fit. For instance, getting up early to train will wake me up for the rest of the day, meaning I can focus on my revision or lectures. Training again in the evening gives me a release and clears my head of the day's work."
Benjamin, who will compete as a member of the British Age Group European Championship Team (20-25), observed that Bangor's location makes it an ideal destination not only for study, but for training as well. "I am happy I chose to study at Bangor as it has provided me with so many opportunities to train in some of the country's most beautiful areas. I would thoroughly encourage anyone who enjoys cycling, walking or running to come and study at Bangor University."
Stephen Clear, Benjamin's personal tutor at the Law School, praised his student's commitment to both his studies and his sport. "Both inside and outside the classroom, Benjamin is a very motivated student who consistently strives to achieve new goals. He has won several Athletic Union awards, such as Freshman of the Year in his first year at Bangor – a remarkable achievement given that he was competing against members of all the University's Athletic Union clubs. I have no doubt that Benjamin will continue to achieve in his European race in Turkey. The Law School wishes him the best of luck!"
Benjamin has 5 sponsorships slots available. For further information, please contact Benjamin at soucbd@bangor.ac.uk.
Publication date: 13 May 2013