Forensic Linguistics expert graduates from Bangor Law School
Amongst this year's crop of graduating Law students at Bangor University is a world-renowned expert in forensic linguistics.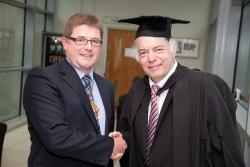 Dr John Olsson, Bangor graduate and Founder of the Forensic Linguistics Institute, shakes hands with Mark Brown, President of the Chester and North Wales Law Society.
Dr John Olsson, an Academic Associate in Bangor's School of Linguistics and English Language, founded the Forensic Linguistics Institute – the world's first dedicated forensic linguistics laboratory for the analysis of language which occurs in criminal and civil allegations and trials – in 1995.
His main speciality is the authorship of anonymous documents, such as hoax letters, product contamination threats and kidnap and other ransom demands. In addition, he is an expert in linguistic aspects of code-breaking. This expertise has seen him called to give evidence in countries as far flung as the USA, Australia, Canada and Singapore.
On Monday, 16th July 2012 he was one of 95 students to graduate from Bangor Law School, achieving a First Class LLB degree in Law.
"If you are serious about your studies but still want to 'have a life', then Bangor is the place to be" said Dr Olsson, who originally hails from Powys in Mid Wales. "It must be the friendliest university in the UK – this is so important for young students leaving home for the first time. The lecturers are friendly and helpful, and there is great camaraderie amongst students of all ages, genders and nationalities".
Publication date: 2 August 2012