Law School Signs Major MOUs with Leading Malaysian Universities
The months of August and September saw visits to Bangor Law School of Malaysia's leading Universities, University of Malaya and Universiti Sultan Zainal Abidin (UniSZA).
Prof John Hughes, VC Bangor University; Prof Dr Johan Shamsuddin, Dean Faculty of Law, University of Malaya
Cooperation between the Law School in the areas of Elder Abuse Law and Public Procurement Law is now proceeding, and extensive MOUs have been signed with both Universities to promote research and exchange cooperation of scholars in these areas. Legal challenges in dealing with the needs of a growing elder population is now a major issue both in the United Kingdom, and also in Malaysia, so this area is one that is ripe for mutual cooperation. The Faculties of the Universities intend to exchange scholars, and also to engage in cooperative research. Students from the two Universities will also participate in exchange programmes, and both Universities are very interested in the research of Bangor University Law School's Institute for Competition & Procurement Studies, as procurement law reform is becoming an increasingly high-agenda issue in Malaysia.
Welcoming the signing of the MOUs, Professor Cahill, Head of Bangor University Law School and the Institute for Competition & Procurement Studies said:
"We are delighted to commence cooperation with our Malaysian colleagues, and look forward to successful cooperation over the coming years."
Professor John Hughes, Vice-Chancellor of Bangor University, welcomed the signing of the MOUs, observing that "Bangor University continues to internationalise its links around the world, and these are exactly the kind of links that we wish to foster and develop.
Bangor Law School is one of the University's most internationalised Schools, and has led the way in developing cooperation with leading Faculties in different parts of the world. This is but another example of how the work of the Law School academics is of interest to colleagues around the world, and we commend the Law School in setting up these links with prestigious Malaysian University Faculties, and I am sure that we will see great results from the cooperation in the years to come."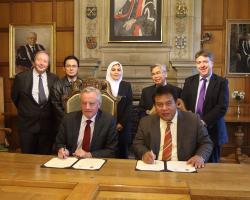 Front L-R – Prof John Hughes, VC Bangor University; Prof Datuk Dr Yahaya Ibrahim, Vice Chancellor Universiti Sultan Zainal Abidin, Kuala Terengganu, Malaysia (UniSZA)
Back L-R – Mr Aled Griffiths; Prof Dr Fadzil Adam, Director of Research Institute for Islamic Product & Civilization UniSZA, Dr Zuhairah, Dean Faculty of Law, Accountancy, and International Relations UniSZA; Prof Dato' Wira Dr Ismail bin Ibrahim, Member of UniSZA Board of Directors; Prof Dermot Cahill, Head of Law School Bangor University
Publication date: 7 October 2015