'Life as an Attorney General of British Antarctica'
On Friday 13 March 2020, Bangor Law School received a guest visit and lecture - 'Life as an Attorney General of British Antarctica' - from Mr James Maitland Wood QC, Attorney General for the British Antarctic Territory. Educated at the University of Wales, Aberystwyth, where he studied Law, Mr James Maitland Wood QC was called to the Bar in 1989 and appointed Queen's Counsel in 2013. For the last 20 years he has been a tenant Barrister at Cornwall Street Chambers in Birmingham.
Mr Maitland Wood QC is also General Counsel for the British Indian Ocean Territory (appointed in August 2014), and was Attorney General for Montserrat (2008 – 2011), Attorney General for Anguilla (2011 – 2014) and Crown Counsel in St Lucia (2007 – 2008). Between 2008 and 2014, he was Director of the Regional Law Revision Centre in Anguilla. Set up in 2007 with assistance from the Department for International Development (UK), the Centre now successfully operates without financial assistance and provides law revision services throughout the Caribbean. Mr Maitland Wood QC conducts public and private work in the Caribbean, assists environmental protection organisations, and provides presentations at Diplomatic Academy workshops for the Foreign and Commonwealth Office.
The lecture welcomed a cross-disciplinary audience, with students from Bangor Law School, The School of Ocean Sciences, School of Sport, Health and Exercise Sciences, and University staff in attendance. In the words of Ms Chaynee Hodgetts "we were offered an insightful and interesting story of his path, describing courts, legal processes, and environmental protection issues from across the globe - and raising important points on working together in future to achieve progression on positive common goals in these respects".
The account of life in the Antarctic - from penguins to plane travel, in one of the world's most challenging environments – also proved an eye-opening and enjoyable experience. Overall, this lecture, and speaker, provided much food for thought for its audience, and gave rise to discussion on the intersections between Criminal Law (Domestic and International Criminal Law), Human Rights Law, Environmental Law, and the Law of the Sea - all of which are specialist areas for Bangor University's School of Law.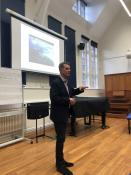 Publication date: 17 March 2020