Ni Hao Shanghai!
A Bangor Law School PhD student has returned from a highly prestigious summer school in China after being the only British participant selected to take part.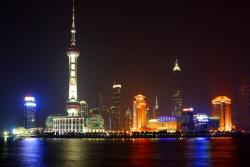 The Bund, Shanghai
The opportunity was made available through Bangor University's International Exchanges Office which provides students with a number of opportunities to work or study abroad.
Stephen Clear, whose PhD focuses on public procurement and judicial review, applied for the 16 day programme at SILC, Shanghai University, so as to learn more about Chinese history, culture and the Chinese economy. Alongside these classes he also had an intensive beginner's course in basic Mandarin.
The programme saw Stephen spend one week at SILC's Jiading campus and the second at Shanghai University's Yanchang campus. During the fortnight, Stephen had the opportunity to visit several key Chinese landmarks including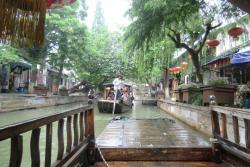 WatertownSuzhou, Tiger Mountain, the Humble Administrator's Garden, the French Concession, the Bund, Nanjing Road, Fahua Pagoda and Hangzhou. He even took a traditional boat ride and visit to Watertown in Zhujiajiao. Commenting on his excursions and visits, Stephen noted that "it was fantastic to experience first-hand the mix between traditional China, in places such as Watertown, compared to the busy business central hubs in places such as the Bund and Nanjing Road. Visiting such landmarks gave me a true insight into China's history and background in contrast to China's impressive skyscrapers, growth and economic development".
Every morning of the programme involved Chinese language classes, concluding with an oral examination by his Chinese language lecturer at the end of the two week programme. "For my exam I had to learn the correct pronunciation of Chinese Pinyin, as well as be able to correctly pronounce the four different Chinese tones. Finally I had to have a one minute conversation in Chinese with my partner. I was a complete newcomer to the Chinese language, having never studied it before. However, the way I was taught at SILC, and the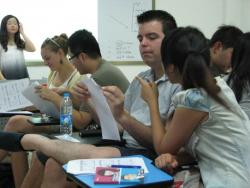 Stephen and partner Cherry in Chinese classguidance I was given by my partner (a current Shanghai University student who was with me throughout the two week experience) was fantastic. I quickly found myself picking up and using key Chinese phrases throughout the day. The fact that my partner (Cherry) was with me throughout all my day-to-day activities enhanced my learning. It was a very supportive environment in which to learn the language." In his final examination Stephen scored 90% overall in his language exam and was awarded the SILC Certificate of Chinese Language.
As part of Stephen's history classes he learnt the history of Shanghai, Chinese culture and the Ancient Chinese Dynasties. His studies also saw him visit Shanghai's Museum to see firsthand China's historical and cultural products. Stephen also learnt of the teachings of Confucius and visited a Confucius Temple. "I found the Chinese History classes the most enjoyable part of the summer school experience. It was fantastic to learn more about the teachings of Confucius and visit one of his temples. This visit was particularly useful for me as Bangor Law School has recently established a Confucius Institute." At the end of the two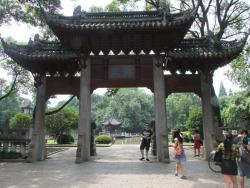 Visiting the Confucius Gardenweeks Stephen took a written examination on what he had learnt in the Chinese history sessions and came top of the class!
Economics lessons gave Stephen an insight into China's 'post opening up' developments in becoming a financial superpower. He learnt of China's growth in areas such as mergers and acquisitions, overseas direct investment as well as Chinese employment, social conditions and population trends. As part of his tuition, he was taken on industry field trips to the Auto-Das Volkswagen production lines and the Baosteel Group Corporation steel works. "It was amazing to see the work-focused production lines within these organisations", commented Stephen. "Seeing huge pieces of red hot steel destined for the side of skyscrapers, going through the production process in Baosteel, is something I will never forget." He was also given the opportunity to visit the Oriental TV Tower and the 1,614 ft tall Shanghai World Financial Centre, the second largest building in the world. As with the language module, Stephen was examined at the end of the programme and was awarded a Shanghai University Certificate in Chinese Economics.
Discussing more generally his time in China, Stephen commented on his enjoyable experiences in learning the martial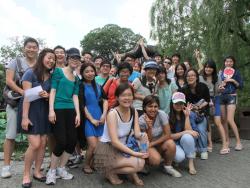 The SILC Shanghai University Summer School 2012 groupart of Tai Chi, as well as experiencing new foods such as frog, duck intestine and chicken heart. "However, the most enjoyable part of the whole experience was the opportunity to meet people from different countries. I have left this summer school experience with new friends from Sydney in Australia, Norway, Ireland, Korea and China. We have agreed to stay in touch and are already putting plans in place for a reunion in Bangor this year, followed by one in Sydney next year. I would thoroughly recommend this programme to anyone interested in finding out more about China. The course lecturers are very supportive and I will stay in contact with many of them now that I have returned to the UK".
Now back in Bangor, Stephen intends to build on his newly-acquired Chinese language classes through the School of Lifelong Learning. He also plans to extend his knowledge of and experience within Chinese Economics and write a joint comparative paper on EU-China public procurement trade.
Commenting on Stephen's experience, Dr Wei Shi, Lecturer in Law and Director of Bangor's newly established Confucius Institute said: "As Stephen has discovered first-hand, China is developing into one of the world's major economic powers. To maximise the opportunities offered by this dynamic market, we need to prepare for the challenges ahead by understanding China's unique cultures, and obtaining indispensable techniques necessary for doing business in China. Bridging the gap between East and West, both culturally and in a business context, will be a key objective of the Confucius Institute."
Bangor's International Exchanges Office will be advertising next summer's programmes in October and these will include placements in China and South Korea. If you are interested in applying, please email andrew.griffith@bangor.ac.uk.
Publication date: 13 August 2012