Second Award nomination for Bangor Law School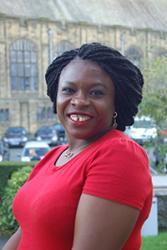 Dr Ama Eyo.A Bangor University lecturer has been shortlisted for the prestigious Law Teacher of the Year award.
Dr Ama Eyo is one of only six law teachers from institutions across the UK shortlisted for the Award. Sponsored by Oxford University Press, the Law Teacher of the Year Award is the only one of its kind in the UK set up specifically to reward great law teaching in both further and higher education.
With an exceptionally high standard of nominations from universities around the country, the judging panel had a tough job selecting the final shortlist of six. The judges will return to Bangor University for the rigorous second stage of the judging process, as Ama Eyo's colleague, Sarah Nason at the Law School was shortlisted for last year's competition, underlining the high standard of teaching at Bangor University's ten year old Law School.
Ama is the Director of Bangor LLM in Public Procurement, where she has developed innovative teaching methods to excite students' passion for the law and strategy of public procurement at the Law School's leading procurement law centre, the Institute for Competition & Procurement Studies. Ama also teaches Company Law and Tort at undergraduate level, and originally hails from Nigeria and holds her PhD from Nottingham.
Complimenting her novel teaching approach, Head of Bangor Law School, Professor Dermot Cahill observes:
"They say lightening never strikes twice but it has here! This is our second colleague shortlisted in successive years for the Final of the Oxford University Press Law Teacher of the Year Award. What a year for Bangor Law School! Ranked No. 1 in Wales in the latest National Student Survey, and with the joint 5th highest score for overall satisfaction in the UK, and now honoured with this accolade for our brilliant colleague Dr Ama Eyo, shows that excellent lecturing is something we and our students value highly in Bangor. I am so happy for Ama, her preparations for class are meticulous, yet she makes it feel so effortless in the seminar room: this why her students respond to her pushing them to go further and amaze themselves in their quest for knowledge. Another great thing about her nomination is that she combines modern teaching techniques with well proven "old fashioned" virtues of integrity, hard work and dedication, this makes her an excellent law teacher and an inspiration to her students. We are so proud to have a colleague like Ama on our staff. I want to wish Ama every success in the next stage of this competition"
On hearing the news, Ama Eyo said:
"I am extremely delighted at this excellent news and as it demonstrates the validation of the relationship my students and I have tried to create over the years, the exceptional contributions my colleagues and students have made to my teaching, and a testament to the excellent level of engagement between lecturers and students at Bangor University. Over the last four years of my academic career, the University and Bangor Law School have provided me with a range of unique teaching opportunities and skills, and I am grateful that my students have helped me to develop and hone these skills through their dedication and engagement in class.
I see the shortlisting of a lecturer from the Law School for the second year in a row, as a celebration of our students' belief in what we do, and a reflection of the support I receive from my colleagues who are committed towards enabling our students reach their full potential. Indeed I am blessed to be part of a community driven by effective learning and student engagement, both within and outside classroom"
Joining Ama Eyo on the shortlist are Paula Blakemore, The Law Academy and Birkenhead Sixth Form College; Emily Finch, University of Surrey; Jane Holder, University College London; Esther McGuinness, University of Ulster and Nick Taylor of the University of Leeds.
The winner will be announced at an awards luncheon in Oxford on 27th February 2015.
Ama Eyo's nomination is the latest in a series of major developments at Bangor Law School which underline the tremendous progress made at the School in the ten years since its inception.


Publication date: 25 November 2014