Three receive Widening Access Busraries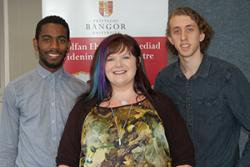 Aaron, Lauren and Gerard, who all received Widening Access Bursaries.Studies have got off to a great start for three postgraduate students at Bangor University as they've each been awarded a £5,000 Scholarship to support their studies.
Gerard Hall, Aaron Andrew John and Lauren Jayne Baskeyfield have each received a Widening Access Bursaries, awarded specifically to Bangor University graduates from areas with low participation in higher education.
Gerard Hall from Walton in Liverpool studied Psychology for his undergraduate degree and is now studying a masters in Neuroimaging. After completing his MSc he hopes to go into neuroscience based research job or if the opportunity arises, a PhD in research.
"I come from a working class family, and both my parents have disabilities. I am always reminded and showed me that no matter what disadvantage you come into life with, with the right amount of hard work and determination you can reach your goals."
He chose to study at Bangor as he wanted to move away from the big city and wanted the freedom to create his own lifestyle. The School of Psychology's excellent reputation also persuaded him to choose psychology over mathematics.
As well as some part-time work, Gerard volunteered as an assistant researcher within the Social Brain in Action (SOBA) lab at the School of Psychology, which fired his passion for research. He was also an international student advisor.
Aaron Andrew John grew up in Bircotes, outside Doncaster and attended schools in Retford and Doncaster. Having graduated with a LLB Law degree, he is now studying a LLM Masters degree in Public Procurement Law and Strategy at the University, and ultimately hopes to study at PhD level.
Aaron says his education was "eventful to say the least. I probably spent more time out of the class then in it. I had trouble seeing education other than a chore or a social club to socialise and have fun with my mates, not realising that they were advancing while I was not fulfilling what teachers constantly told me I was capable of. I eventually decided to take a hold of my education and move schools, which did wonders for my work ethic and discipline.
"Bangor University was an obvious choice for me, once I saw the location and the staff who were welcoming and the close and small studying environment. Once here I never regretted it," he said.
"Studying law is not easy, however the benefits are enormous in terms of testing your determination. The sense of achievement when you graduate is fantastic. I worked during my studies and so balancing work, university and a healthy social life was key for both my academic progress as well as my own welfare."
"I am so happy to receive the assistance from the university to study my Masters, as it alleviates the financial pressures that are usually associated with post graduate study," he said.
Lauren Jayne Baskeyfield, of Rhyl, Denbighshire is embarking on an MSc degree in Clinical & Health Psychology, having gained a degree in Psychology from Bangor University.
After achieving her MSc, Lauren hopes to work in a clinical setting with a view to eventually gaining a place on a Doctorate Programme and ultimately become a Clinical Psychologist.
She says:
"I can't begin to express how grateful I am to be a recipient of this fantastic Bursary – it means that I can continue my studies and edge closer to my dream career without the financial worry or uncertainty. It'll make an enormous difference to my postgraduate experience – I'm over the moon!
She says: "When I was nine years old I watched my Mam graduate at Bangor University as a mature students. I vividly remember thinking how pretty the place was and decided at that moment that I wanted to graduate at Bangor too!"
Lauren faced health challenges during her time in secondary school, but later enrolled onto an Access to Higher Education course at Coleg Llandrillo Rhyl, which set her back on an academic path to Bangor University.
She says: "In addition to my studies, this bursary is also enabling me to continue as a volunteer and project leader of Student Volunteering Bangor (SVB)'s Hergest Project – a befriending scheme at the mental health unit of Ysbyty Gwynedd, which consists of weekly activity-filled sessions for patients. The project truly enriches my university experience, and further cements my drive and passion to work within the field of applied clinical psychology."

Delyth Murphy, Head of the Widening Access Centre:
"The Widening Access Centre is pleased to sponsor the post-graduate students again this year. The recipients have overcome various difficulties and seeing them being able to continue with their studies in a number of important areas is a delight. I'm certain this support will provide a significant boost to their professional development and will lead to successful careers in the future."
Publication date: 19 October 2015