2017 Tropical Forestry Study Tour in Ghana
Students fully immersed in the tropical forests of Ghana: Bangor University's MSc Tropical Forestry Study Tour 2017
Through a well-established partnership with the Forestry Research Institute of Ghana (FORIG), staff in the School of Environment, Natural Resources and Geography recently organised a study tour to Ghana. In attendance were 27 students on the MSc Tropical Forestry (distance learning) programme at Bangor University. Before the study tour commenced, students interacted regularly using our Blackboard system, discussed topical literature on forestry and sustainability in Ghana, and worked together to create their own research proposals. These proposals were then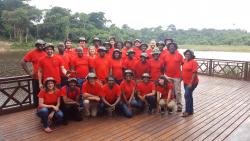 MSc Tropical Forestry students with the SENRGy teaching team at the FORIG headquarters in Kumasi, Ghana, July 2017 (© Genevieve Agaba)
put into action during an intensive two-week journey in and around the forests of Ghana. There was a wonderful mix of students from 13 different countries across the world: Uganda, Kenya, Tanzania, Malawi, Zambia, Nigeria, Ghana, Lesotho, India, the Netherlands, Hong Kong, France and the UK.
The students included many Commonwealth Scholars from African countries and India, generously supported with full scholarships by the Commonwealth Scholarship Commission. Professor Phillip Nyeko of Makerere University, Uganda – a Bangor University alumni himself (PhD Forestry 2001) - was also present as an honorary and vital member of the teaching team.
It was an exciting time for distance learning students as the study tour enabled them to meet fellow students and lecturers in person for the first time since starting their degree. After studying remotely at a distance, with communication limited to Blackboard™, Whatsapp, e-mail, and Skype, they were finally able to put faces to names. The first week was designed to give a broad overview of forestry-based enterprises, NGOs, governmental institutes, and community initiatives in central Ghana. Visits were made to a sawmill, an experimental cocoa farm, a charcoal-making enterprise, a sacred grove, Forestry Commission plantations, and the Ghana Permaculture Institute. During this first week, students also worked on their group research proposals, supported through guidance and discussions with the teaching team.
Selfie with DL MSc Tropical Forestry students, Professor Julia Jones (2nd from left) and Professor Phillip Nyeko (far right), July 2017 (© George Ndege)
During the second week, students split into their previously allocated research teams and worked together with field staff from the Forestry Research Institute of Ghana (FORIG) to conduct four different research projects. Two teams focused on insect predation in differently managed stands of trees in Bobiri Forest Reserve, by making model caterpillars from clay, deploying them at various locations in the reserve, then collecting them and identifying the marks left on them by predators. The other two teams interviewed people living within and around Bobiri Forest Reserve to understand their use of forest resources, land tenure issues, and policies influencing how communities interact with the forest. The students presented their initial findings on the last day of the study tour at the FORIG headquarters in Kumasi.
The two-week study tour was a huge success, with lecturers and students discussing late into the evenings, and gaining so much from each other that would otherwise not have been possible. This educational experience has not only enabled the formation of many new friendships and professional contacts, but has also lead to research skills being developed that will benefit the students as they start their dissertations and can be applied in their workplaces as many of them work for research and development organisations in their own countries.
Our students explained what they personally got out of the study tour:
"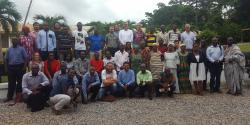 DL MSc Tropical Forestry students with lecturers and researchers from SENRGy, Makerere University, and the Forestry Research Institute of Ghana, July 2017 (© Genevieve Agaba)I definitely learnt a lot of skills that I will be transferring to my current and future employment. The skills include: improved knowledge of how to conduct qualitative research, survey design and data analysis."
"To have the actual experience of tropical forestry instead of only learning it from books, and the combination of actually meeting my group members and doing tropical forest research was really valuable to me."
"To me the whole module was valuable. I was very much impressed with the way it was organized. It was very educative because it allowed us students to put into practice what we had learnt in all other modules such as agroforestry, silviculture, and forest monitoring and assessment."
"The group research was most valuable to me because I was able to interact with my lecturers and classmates from different parts of the world. This module helped me to understand experimental research and to collect data. I enjoyed talking face to face with my lecturers and discussing the challenges I faced as distance learning student. I can easily contact and communicate with other students after this study tour because I now know them and their strengths better."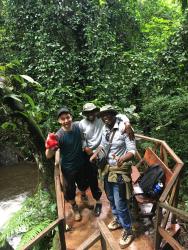 DL MSc Tropical Forestry students, Tom Woolnough, Sebastian Walaita and Ambrose Ahimbisibwe in Atewa Forest Reserve, July 2017 (© James Walmsley).
The next Tropical Forestry Study Tour is due to take place in 2019.
We would like to thank and acknowledge the invaluable contributions of the Commonwealth Scholarship Commission, the Forestry Research Institute of Ghana (FORIG), and Professor Philip Nyeko of Makerere University.
The MSc Tropical Forestry (distance learning) programme is fully accredited by the Institute of Chartered Foresters, as are all forestry degree programmes offered by Bangor University.
Publication date: 8 September 2017