Why Study Biology?
You will be taught by staff from the School of Natural Sciences who are experts in their field. Our students enjoy being here and we pride ourselves on the quality of teaching and pastoral care we offer. We have a long tradition in teaching and research in the Biological Sciences. Research submitted by our staff has been recognised as being within the top 20 in the UK in the most recent Research Excellence Framework (REF 2014).
We have excellent facilities on campus for the study of both flora and fauna, which include our very own natural history museum, botanical garden, freshwater and marine aquaria, venomous snake collection, Europe's largest underground soil laboratory, aviaries, an ocean-going research vessel, and an active research farm – all of which are constantly used for teaching and research.
In your second year, you can choose to study at a university in the United States for all or part of the year.
Watch - Study Biological Sciences
Take a look what it is like to study Biological Sciences at Bangor including a glimpse of our own Natural History Museum and lab spaces. Our student talks about studying, field-trips and her aspirations after graduating.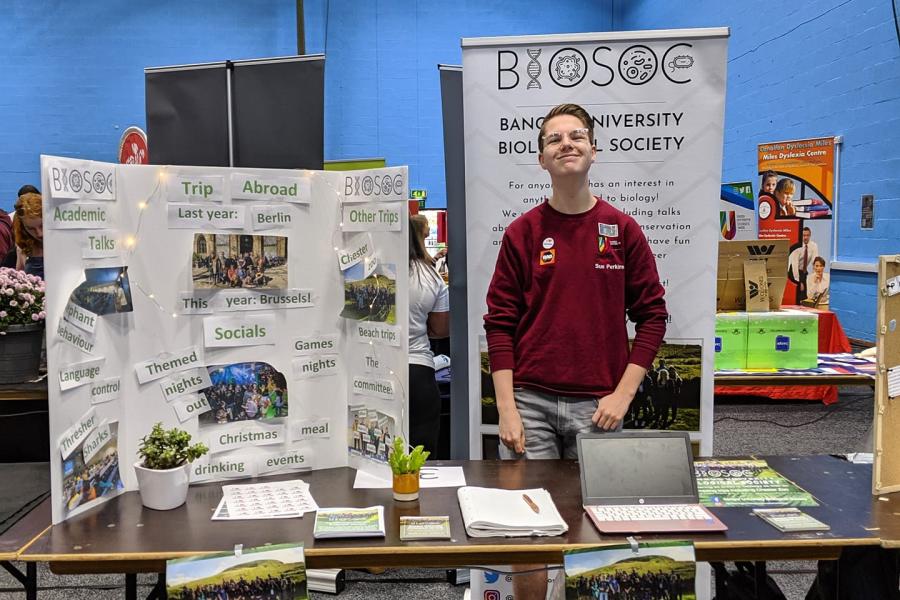 Student Profile Marcus Jones
BSc Biology
"The best thing so far was the opportunity to go abroad for field trips in Year 2. This massively improved my confidence in talking to staff about work ... which has helped considerably this year when working on my dissertation."
Our Research in Biology
We support a vigorous research base in Biological Sciences, including molecular ecology, Biogeochemistry and Plant Science, Animal physiology, behaviour and conservation, Microbiology, parasitology and biotechnology, fisheries genetics, ancient DNA, evolutionary and conservation biology, biogeochemistry, biohydrometallurgy, plant product biochemistry and (plant) stress physiology, wetland biogeochemistry, neurophysiology of crustaceans, animal responses to stress and applied microbiology.
We receive substantial financial support from Research Councils, charities, government departments, the European Commission, and British and overseas industry. Our postdoctoral base is strengthened by individually-sponsored Fellowships from the NERC and the EC (e.g. Marie-Curie). Our diverse interests facilitate a wide exchange of interdisciplinary ideas and techniques and promote collaborations here at Bangor and with colleagues in other institutions and industry, in the UK and overseas.
Related Subject Areas
You may also be interested in these related subject areas.
Related Subject Areas
You may also be interested in these related subject areas.