A renowned north Wales' Professor has highlighted the importance of Wales' wetlands as part of World Wetlands Day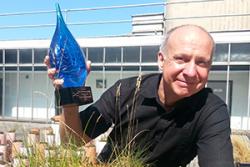 Professor Chris Freeman with his recent award as a Fellow of the Society of Wetland Scientists – recognising him as one of the world's leading experts on wetlandsProfessor Chris Freeman from Bangor University has thrown his support behind the event aimed and at raising the awareness of wetlands across the globe.
The award-winning academic, who runs the UK's only postgraduate degree on wetland science, is using World Wetlands Day to highlight the vital role wetlands play in Wales.
Prof Freeman says many wetlands are under threat, despite having the potential to curb flooding, clean our drinking water and store vast amounts of carbon dioxide.
"For centuries we've neglected many of our wetlands, seeing them as a waste of land that needed draining for farmland or building on," said Prof Freeman.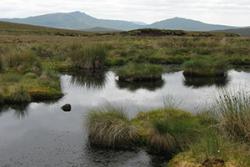 "Thankfully we're now realising the value of these ecosystems – both in terms of their biodiversity and ecological roles, and for the services they provide us.
"Salt marshes can protect our coasts; buffer zones along rivers can reduce flood damage; peatlands store more carbon than our forests; fens and marshes can help clean our water before we drink it and other wetlands provide us with a host of foods and resources.
"World Wetlands Day is a fantastic idea, it takes place every year on February 2 and events are held around the world to raise public awareness of our wetlands."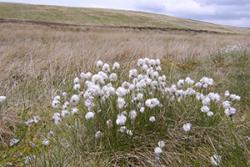 Despite their importance some wetlands are still being lost through drainage and pollution.
Prof Freeman claims more needs to be done to protect them which is why he started the Wetland Science and Conservation Masters degree at Bangor University.
"Although we have so many different types of wetlands in Wales and the rest of the UK most people just don't realise how vitally important they are to our very well-being," he said.
"Our course aims to train a whole new generation of wetland scientists, so that we can not only learn more about the natural processes going on in these ecosystems but understand how they can best be protected."
He added: "I'd urge everyone to take a walk around their nearest wetland on February 2 and find more about them – just remember to take a pair of wellies!"
If you would like to know more about the Wetland Science and Conservation MSc at Bangor University visit http://wccl.bangor.ac.uk
Publication date: 31 January 2014