Bangor foresters in Westminister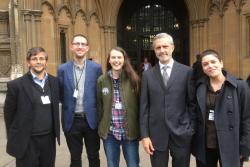 At Westminister from left to right: John Healey, Professor of Forest Sciences, Sam Hollick, MSc Agroforestry; Jemima Letts, BSc Forestry Mat Curtis, MSc Forestry Solange Montero Terry, MSc Forestry.Five Bangor University foresters were privileged to be invited to join other students, forestry professionals, Members of Parliament and forest industry representatives and experts to mark the recent launch of a national Confor #TheFutureIsForestry competition.
Confor is the industry body which represents the forestry and wood sector across the UK. Confor generously arranged financial support that enabled students to attend who otherwise would not have been able to, via their Education and Provident Fund.
Recounting her experience, final year BSc Forestry student, Jemima Letts said:
"Having the opportunity to meet with other forestry students from across the UK was invaluable. Being able to do this in a setting like the Houses of Parliament was incredible and I am excited to get involved in Confor's #TheFutureIsForestry competition!"
James Walmsley, lecturer in Forestry at the School of Natural Sciences, commented:
"it's fantastic to see forestry gaining this profile and recognition in Parliament. I was very proud to see MSc Forestry alumni, David Pelly, win a prize in the same competition last year. I'm hoping that his success encourages many more high quality applicants from Bangor foresters this year! I'd like to thank Confor, as well as the sponsors Tilhill Forestry, BSW Timber Group and Forestry Commission, for supporting and encouraging our students in this way."
For more information:
http://www.confor.org.uk/news/latest-news/future-of-forestry-writing-prize-is-back/
Publication date: 28 June 2019