Bangor Graduates Take On The Fringe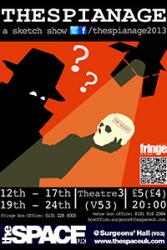 This summer four Bangor University graduates are taking an original sketch show to the Edinburgh Fringe Comedy Festival!
Patrick Pritchard (BA Media Studies and English, 2013), Josh Fenby-Taylor (BSc Psychology, 2013), Rory Cooke (BSc Conservation and Forest Ecosystems, 2012) and Roddy Shaw (BSc Zoology with Conservation, 2012) all met at Bangor University and began to collaborate and perform together in live comedy shows. During their time with the Bangor University Comedy Society they have performed in sketch, stand up and Improv shows – even alongside famous comedians Phill Jupitus and Seann Walsh!
Show Organiser Patrick Pritchard believes that the opportunities provided by the Bangor University Comedy Society were instrumental in the group's formation:
"We had all performed together regularly and had a very good idea of each other's strengths and weaknesses. We're all very different from each other in terms of comedic style, and that definitely comes across in our show! I didn't think before coming to Bangor that I'd ever get the chance to perform at the Edinburgh Fringe but, being able to meet like minded people through Bangor Comedy, I'm delighted that I'm able to put a massive tick next to this item on my bucket list!"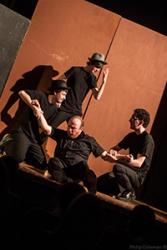 An 'action shot' from rehersals shows: Rory Cooke, Josh Fenby-Taylor (standing), Patrick Pritchard (manhandled) and Roddy Shaw.He also cannot believe that the group has got so far having had to overcome many challenges along the way:
"We came up with the idea to go to Edinburgh in November last year (2012) figuring that, if you're going to take your comedy out of Bangor for the first time, you should definitely start with one of the largest comedy festivals in the world! I didn't think we'd be able to do it – myself and Josh have been negotiating dissertations and exams, Rory and Roddy have been taking their first steps into the real world - all the while rehearsing and planning this Edinburgh show! It's been really tough at times but we're all incredibly excited to get going!"
Some of the material for Thespianage was previewed in Bangor and the sketch group took the unusual step of asking for the audience to give their feedback on their material:
"It was definitely a risk - but it was worth it! We got some fantastic feedback, which we've put into action. I couldn't be happier to have the opinions of a Bangor crowd, who have been so supportive in all the shows I've been in during my time at University, influencing the material that we take to Edinburgh."
The show, entitled 'Thespianage', is a collection of sketches covering a variety of topics from over-the-top thespians to psycho-lol-ogical experiments, mediated through four Agents pursuing the sketch group, named 400Hats.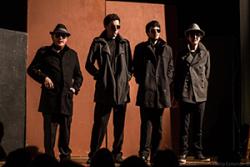 Comedians Patrick Pritchard, from Wigan; Roddy Shaw, from Tullamore, Ireland; Rory Cooke, from Manchester and Josh Fenby-Taylor from Oakham, in the Midlands.The show will be performed in Theatre 3 at Surgeon's Hall (V53) as part of theSpaceUK. It will run from 12th – 24th August (not Sundays), starts at 20:00 and costs just £5 (£4 concessions) for a ticket.
"We'd really appreciate it if you could like our Facebook page or follow our Twitter to keep up with how we're doing!!"
www.facebook.com/thespianage2013


Publication date: 31 July 2013