Bangor Professor appears on The One Show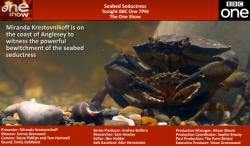 You'll be spellbound by this fabulous film about 'love' on the shore and a 'seabed seductress' which was broadcast on popular BBC One programme The One Show recently. Prof Simon Webster of the School of Natural Sciences explained to Miranda Krestovnikoff how the females of a common crab species that we find on our sea shores, attract a male and gains some protection into the bargain!
The film is seven minutes into the programme and is available here for 29 days.


Publication date: 19 September 2019