Bangor University hosts a successful alumni event at the 4th World Congress on Agroforestry in Montpellier, France
On Monday the 20th May 2019, with support from the International Education Centre, staff from the School of Natural Sciences (SNS) hosted an event at the 4th World Congress on Agroforestry in Montpellier, France. Bangor University has a large number of international students and makes efforts to keep in touch with alumni wherever they are in the world. At the hotel Oceania, staff, alumni, current and prospective students shared stories, networked and learned about recent developments at Bangor University as well as far beyond.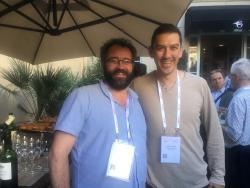 Dr Tim Pagella (left) with Bangor alumnus, Dr Carlos Cerdan
In attendance were a number of Bangor University alumni from distant corners of the world including Hernàn Andrade who received his PhD in 2007 and now works for the University of Tolima in Colombia; Carlos Cerdan, who received his PhD jointly with CATIE in Costa Rica, now employed by the University of Veracruz in Mexico; Géraldine Deroirre (Joint PhD with SLU Sweden, 2016) who is now based with CIRAD in French Guyana; Emilie Smith (MSc in 2010 and PhD in 2018) working with ICRAF in Nairobi; Liz Llewellyn (DL MSc Forestry in 2017) from South Africa; Donald Zulu (MSc Agroforestry 2008) from Zambia who is now pursuing a PhD with Reading University. Current students included Mary Crossland, who is a PhD student with Bangor University and works closely with ICRAF; Bid Webb (PhD student); as well as our Indian Tropical Forestry student on the distant learning programme Yogesh Sawant.
It was also a meeting of our international (former) staff, James Brockington based in French Guyana, our honorary lecturer Dr Rob Brook currently based in Costa Rica, and of course Dr Fergus Sinclair who is based with ICRAF in Nairobi, Kenya.
Reflecting back on their times in Bangor, most alumni remember the fieldtrips and the mountains as their most memorable experiences. Which doesn't surprise us, as many were part of an international programme, whether it was the distant learning MSc degree, or fieldwork in faraway places. Also, the atmosphere within the department and lectures by former lecturer Hussein Omed were well appreciated!
Meghan Giroux from Vermont, USA, and who will be receiving her MSc degree later this year, brought local agroforestry produce from her region. These included soaps, birch syrup dried mushrooms and maple sugar candy. What about some innovative ideas for other places?
Publication date: 12 June 2019