Bangor University maintains leadership position in Student Satisfaction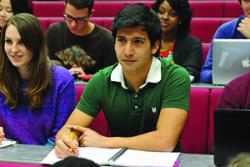 Bangor University again leads Welsh universities in the most recent measure of student satisfaction, and is among the top 10 of the UK's best non-specialist universities, the traditional institutions who offer a broad range of subjects.
The results are drawn from the National Student Survey, a poll of around half a million graduating students at each university in the UK, which provides the most comprehensive feedback on the student experience at each institution.
Professor Oliver Turnbull, Pro Vice-Chancellor for Teaching & Learning at Bangor University commented on the results saying:
"As well as a long record of academic excellence, Bangor is renowned for providing excellent teaching and student support, and this is borne out by these wonderful results. We've successfully introduced initiatives to give students a stronger voice in the University, and that approach is reflected in these marvellous results"
"The fact that almost one quarter of our degree subjects have a 100% satisfaction rate is clearly to be celebrated, as is our 91% overall satisfaction score, which places us level with Oxford University, and ranked higher than every other Russell Group institution."
As well as topping the overall table in Wales, and being joint 8th among the UK's non-specialist universities, Bangor tops the UK tables in six subjects, according to graduate feed-back, and is top in Wales in 12 subjects. In addition to this, the University appears in the top 10 in the UK for 19 of the 39 subject areas taught at the University.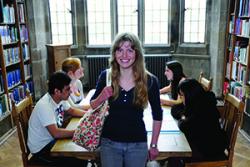 The survey questions students about the teaching on their course, assessment and feedback, academic support and organisation and management, learning resources and how their personal development is supported. Bangor University's students responded favourably, placing the University in the 'top 10' institutions UK-wide in four of these areas: teaching; assessment/feedback; academic support and personal development, and leads Welsh Universities in five of the six categories- being placed second in one category.
Prof Turnbull added: "The data provides valuable information to prospective students, and reflects our expertise in teaching, for which we have recently been awarded a Higher Education Academy Award to enable us to share our best practice with other UK higher education institutions.
"I'd like to thank our Students' Union for working with us on our initiatives, and all the students who took time to respond to the Survey."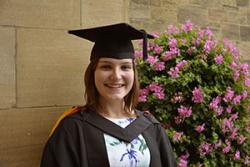 Sophie VentersRecent graduate Sophie Venters, who achieved a BSc Psychology degree this summer said:
"I have loved my time at Bangor University. The lecturers within my school have been outstanding in providing academic and pastoral support and going the extra mile for students. Not only is emphasis placed upon academic excellence, but there are also many opportunities to enhance your employability and skills to set you apart from the crowd. For example, I have been highly involved with Student Volunteering Bangor, as well as participating in the Enterprise by Design scheme. All of these experiences have further enhanced my experience at Bangor and have made the time I have spent here unforgettable."
Jake Sallaway-CostelloJake Sallaway-Costello, who graduated this year with a BSc (hons) degree in Psychology with Clinical and Health Psychology said:
"My time at Bangor University saw me transform from a worker to a professional. The opportunities to participate in paid internships, language classes, co-curricular volunteering projects, international education and a world-class personal-professional-development programme are what set Bangor aside from other universities. Bangor recognised my potential and provided me with a wealth of career-enhancing experiences; ensuring that my motivation to succeed was fostered. Graduating with an accolade of awards, accomplishments and a strong professional network, I have been able to confidently enter the graduate job market in the knowledge that I have the skills to succeed."
Bangor is top in the UK for:
Bangor is top in Wales for the following 12 subject areas:
Bangor is in the UK 'top ten' for 19 out of the 39 subject areas in which we are ranked:

Agriculture and others in Veterinary Sciences, Agriculture and related subjects
Archaeology
Celtic Studies
Design Studies
Electronic & Electrical Engineering
English Studies
Finance
Forestry
Initial Teacher Training
Journalism
Linguistics
Media Studies
Music
Others in Biological Sciences
Social Policy
Publication date: 12 August 2015