Bangor University supporting beaver reintroductions for World Wetlands Day
A beaver: Image by Allard Martinius via Wildlife Trusts WalesBangor University has thrown its support behind the reintroduction of beavers in Wales to mark World Wetlands Day (2.2.18).
Scientists from the university are calling for more support of the Welsh Beaver Project which aims to bring back the iconic animal to the country.
The initiative, which is being led by Wildlife Trusts Wales, is currently looking into possible sites to release beavers into.
The animals will then be monitored to understand if a widespread reintroduction would be possible.
Prof Chris Freeman, who leads the Bangor Wetlands Group at the university, said the project has their full support.
"Beavers were hunted to extinction in the UK 400 years ago and now England and Scotland are taking steps to bring this amazing animal back," said Prof Freeman.
"We need to investigate if the same can be done in Wales.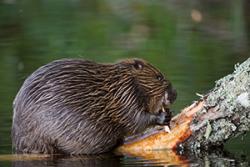 Beaver on a log.: Image by Allard Martinius via Wildlife Trusts Wales"The dams that beavers are famous for building can create unique wetland habitats, teeming with wildlife and even preventing the flooding of our towns and villages.
"That's why as part of this year's World Wetland Day we're throwing our support behind the Welsh Beaver Project as we hope others will too," said Prof Freeman.
Alicia Leow-Dyke from the Welsh Beaver Project said: "We're incredibly grateful to have the support of Bangor University."
"A few hundred years ago beavers and their dams would have been a common site in Wales – we want to look at whether we can make that possible again," she added.
The Vice-chancellor of Bangor University, Prof John G. Hughes said it was part of the university's role to get involved in such important Welsh projects.
"Beavers could bring many benefits to both the landscape and people of Wales, so it's right that we should look at the possibility of bringing them back.
"I'm delighted to announce our wetland scientists are getting involved in the work of the Welsh Beaver Project," he said.
More information on the Welsh Beaver Project, supported by the players of the People's Postcode Lottery, can be found at www.welshbeaverproject.org.
Publication date: 2 February 2018