Biomedical Science PhD student wins the Carl Singer Foundation Prize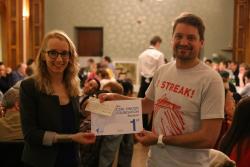 The Carl Singer Foundation, which supports scientific education in the field of yeast genetics, organized for the first time a special presentation session at the recent British Yeast Group meeting.
This high profile scientific conference took place between the 7th and 9th of April 2014 at Exeter University. Thirteen students from across the United Kingdom were selected based on the quality of their submitted abstract to present their research work.
The winner of the top prize for the best presentation was Mrs Jessica Fletcher from the School of Biological Science at Bangor University. Jessica, who is also a post-graduate teaching assistant in Biomedical Science, researches how a novel variant of the oncogene Chk2 affects the ability of cells to responds to DNA damage.
Jessica explains: "In cancer research, we can use simple model organisms such as yeast to help study cellular processes which we then apply to more complex organisms such as humans. In my research I use a yeast known as fission yeast (Schizosaccharomyces pombe) to study the cell cycle, and how things can go wrong in conditions such as cancer."
Jessica`s winning presentation can be watched live on YouTube under http://www.youtube.com/watch?v=AtFMhNPjykg
For further information, please contact
Dr Thomas Caspari
School of Biological Sciences
Bangor University
Deiniol Road
Bangor
LL57 2UW
UK
Related documents:
Publication date: 6 June 2014