First in her family to graduate thanks role model mum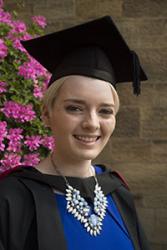 Alexandra HarveyZoology graduate Alexandra Harvey from Stroud, Gloucestershire, has become the first person in her family to graduate from university - and has done so with a First Class Honours degree.
Alexandra, 21, credits her mother Jackie for inspiring her to realize her ambitions and study at university. She said. "My mum raised me as a single parent after my dad died before I was born, so she has been my role model, inspiring me with a great work ethic, time management and the desire to prove to her that her efforts in raising me were worth it."
She added, "Bangor University has provided me with invaluable experiences, both academic and social. Without coming here, I would in no way be as confident in myself and my abilities and I now feel empowered to pursue a career in the field I am inspired by and love. I have all my lecturers and friends I have met here to thank for that, as well as my mother, who I would definitely not be here without."
During her time at Bangor, Alexandra balanced her studies alongside a busy work and social life. She was an active member of the Paintball Society and the Science Fiction and Fantasy Society, worked as an assistant animal technician in the School of Biological Sciences' snake labs and during her summer breaks worked at a zoo and a wildlife centre.
In her second year at Bangor, Alexandra had the opportunity to travel to America for a field course module.
She explained, "I spent 10 days in Arizona, focusing on the local Rattlesnake populations. As a group we handled and studied the niches of these rattlesnakes to try and decide the origin of their evolution, as well as staying in a renowned research facility. The experience of this trip was amazing, as I never thought I would have a chance to study my favourite animal (snakes) within their natural environment, let alone be in America and handling them first hand!
"The highlight of my course was being given the opportunity to complete my dissertation on identifying unique Puff Adder venom genes, which could them be used to create artificial venom, to create more efficient anti-venoms and be used within medical research for diseases, such as cancer, worldwide.
"After handing my final draft in and seeing that I had got a first, it made me so happy that I had made my family proud and achieved what I had set out to do from first starting at Bangor."
In September Alexandra hopes to study a Masters in Medical Molecular Biology and Genetics and pursue a career in pharmaceuticals.
Publication date: 17 July 2015