Fourth Bangor Science Festival is on the horizon
Planning for the fourth annual Bangor Science Festival is well under way and the 2014 Festival is certainly shaping up. The Science Festival will be held during National Science and Engineering Week from Friday 14th March and Sunday 23rd March 2014.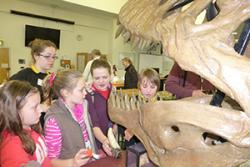 Young visitors to last year's Hidden Worlds ExhibitionEntertaining and thought provoking activities are being planned to appeal to all ages; from young school children and families to the general public and professionals interested in the latest research. A few events are highlighted here and more information can be found on the Bangor Science Festival web site. Fringe events are being added to the programme all the time and the organisers are encouraging any organisation holding an event during that week to get in touch, because the Festival has been designed as the Bangor hub for National Science and Engineering week activities, and events can be listed bilingually on the web site.
Once again there will be a public open day, the "Hidden Worlds Exhibition" at the Brambell Building which has attracted hundreds of visitors in each of the last two years. The event will run on Saturday 15th March
On Tuesday 18th & Wednesday 19th March, there will be "Ecoscience Days" for secondary schools, which have been very successful over the last four years. The day will feature Science talks, a chemistry show, museum visits, lunch and a competition with prizes.
A Sustainable Resources Science Careers Fair will be held between 1 and 4pm on Wednesday 19th March at the School of Ocean Science, Menai Bridge. This event is aimed at years 12 and 13 students as well as students at undergraduate and postgraduate level, and will feature presentations and demonstrations from local employers as well as a CV clinic.
The organisers are also running a junior (under 18) art competition again. Students can win an art workshop with Pontio's Arts Council Wales supported Artist-in-Residence, Bedwyr Williams at their school and will also have their work exhibited in a special Bangor Science Festival Exhibition at the Gwynedd Museum and Art Gallery in Bangor.
Rosanna Robinson, Lecturer in the College of Natural Sciences and one of the event co-ordinators said:
"By starting up the Bangor Science Festival four years ago our aim was to engage with the wider community of North Wales and to showcase the world-leading scientific research which is being carried out here in Bangor. We are delighted with the enthusiasm and excitement the Festival has generated and with more events being added each week the Festival looks set to grow even bigger and better."
Councillor Douglas Madge, Mayor of Bangor said: "Bangor University's Bangor Science Festival has proved very popular with local people over the last few years and the city of Bangor is proud to be part of such a festival which will highlight the science excellence we have in Wales to the wider community."
For more information see the Bangor Science Festival web site www.bangor.ac.uk/bangorsciencefestival or email the organisers on b.s.f@bangor.ac.uk
This festival is being arranged by Dr Rosanna Robinson, College of Natural Science and Stevie Scanlan, College of Physical and Applied Sciences in partnership with many colleagues at Bangor University. This festival has been made possible by the fantastic support received from the sponsors:
Pontio
The Dr Tom Parry Jones Endowment Fund
And also our partners
The Gwynedd Art Gallery and Museum
The BBC
Geo Mon
Bangor University's Treborth Botanic Garden
Bangor University's Talent Opportunities Programme
If you have any queries, please contact the Bangor Science Festival team on:
Tel: 01248 383696




Publication date: 28 January 2014