Help Bring Dr Sophie home – the Story of Draig Beats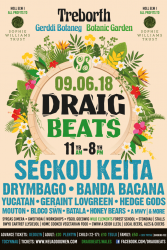 Sometime last year, friends of the Bangor University lecturer Sophie Williams wanted to help raise funds to make Sophie's home ready for her to come home to. Sophie was struck down by Japanese encephalitis three years ago whilst working in China.
They came up with the idea of a one-day festival, Draig Beats, that could involve all the people who wanted to help and more. It was exactly ten years ago that Bangor University students organised the first Botanical Beats to raise awareness of Bangor University's Treborth Botanic Garden.
Sophie, then a student, was instrumental in putting this event on, and it was decided, with the help of the University and the Friends of Treborth Botanic Garden, that the beautiful gardens of Treborth would be the venue for Draig Beats. Since its inception, Draig Beats has been a community event, organised with a great team of people working tirelessly, giving their time for free and has had fantastic support from local businesses, performers, DJs, dancers, arts, crafts and wellbeing practitioners all willing to support the day by helping to organise, appearing on the day or donating prizes for the online auction.
The band that Sophie has played in, Drymbago, even donated the entire proceeds from their gig held at Neuadd Ogwen earlier this year to support the event. Among the many fantastic acts who will be giving their time for free include local bands Drymbago, Yucatan, Hedge Gods, Mouton and headlining will be the internationally acclaimed master kora player and drummer Seckou Keita. Seckou has recently performed at Pontio in Bangor with Welsh harpist Catrin Finch. Their new album 'Soar' is number one in the easy listening and world music charts. Sophie is passionate about African music and is a big fan of Seckou. They first met when he visited her in hospital in 2016 and played kora for her. She said at the time it was the start of her recovery. When told that Seckou will be playing for her at Draig Beats, Sophie said "Amazing! I remember him playing for me at the hospital!"
Sophie's partner Robert said "Draig Beats is not only to support Sophie in our aim to get her home. It also brings communities together, very much in Sophie's spirit!"
The Sophie Williams Trust has been set up to support this cause. 100% of all ticket sales will be going to the Trust. Sophie will be leaving her residential care home for the day to attend the event and is very excited that so much support and love has been shown from the north Wales community to make coming home a reality. Draig Beats will take place on Saturday 9​th​ June at Treborth Botanic Gardens, near Menai Bridge, from 11 am to 8 pm with performances, workshops, arts, crafts, delicious food and refreshments and will be a great family day out.
Tickets:
Adult: Advance £20 - On the day £25
Child 12-17: Advance £10 - On the day: £15
Children under 12 FREE
Family Ticket (2 adults, 2 children aged 12 -17) £50 (advance only).
Tickets available from Neuadd Ogwen or online.
For more information see website or Facebook: Draig Beats.
Publication date: 7 June 2018