Interest in the Agro-ecological Knowledge Toolkit continues to grow: SENRGy staff deliver more training.
SENRGy staff have recently returned from Ethiopia, where, in partnership with ICRAF, they have successfully delivered a training course on the use the AKT5 (Agro-ecological Knowledge Toolkit) to a range of stakeholders, professionals and students.
The recent course is the latest event delivered by SENRGy staff as interest in the AKT5 software and methodology continues to grow. The two week course was held in February 2013 in Adama, approximately 50 km SE of the capital Addis Ababa, and was attended by a number of in-country stakeholders, SENRGy MSc Agroforestry students, ICRAF staff from Nairobi HQ and partner institutes in Rwanda under the ACIAR Trees for Food Security project.
AKT (the Agroecological Knowledge Toolkit) was developed by researchers in SENRGy and is primarily concerned with gathering local ecological knowledge (http://akt.bangor.ac.uk). Local ecological knowledge refers to what people know about their natural environment, based primarily on their own experience and observation.
Through lectures and practical exercises, participants learnt how to use the AKT5 software to create individual knowledge bases using the interviews they carried out in small groups of two or three in the field. Participatory exercises were combined with semi-structured interviews and focus group discussions, including resource mapping, historical timelines, and seasonal calendars.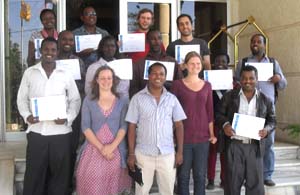 The participants with their certificates
Topics of environmental concern that were covered during interviews included soil types in the area, spatial arrangement of trees in the landscape and on farms, temporal aspects of tree management, seasonal fodder availability and cropping practices.
Following on from the training, two students from SENRGY (Matthias Schmidt and Martha Ataa-Asantewaa) are now beginning their MSc fieldwork over the next three months in Oromiya Region of Ethiopia under the ACIAR Trees for Food Security project.
Publication date: 22 February 2013