Postgraduate Fair Kindle Winner
When George Yates attended the Postgraduate Courses Fair at the end of November, he wasn't aware that he was about to have to rethink his Christmas list. George's registration card was randomly picked from over 350 entries on the day of the Fair, and he became the lucky winner of a brand new Amazon Kindle, which coincidently was at the top of his Christmas wish-list when we met up with him in December.

George was obviously delighted to win the Kindle, but we were also interested to hear why he decided to investigate his options at the Fair:

"I'm studying Zoology at the moment, and particularly interested in the Evolution and Genetics module. I'm really keen to study molecular ecology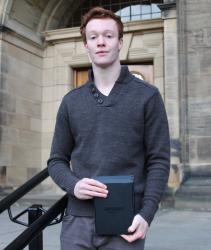 at postgraduate level – I've always wanted to study the evolutionary history of life at a large scale, and molecular data has really altered our understanding of life's origins and early history. But it's also very useful for understanding more specific topics, like population viability, regional variation and cryptic diversity – the versatility appeals to me more than anything.

Asked what he would say to anyone contemplating study at Bangor, George had this advice:

"Bangor is known for research excellence, and has many international connections – if you love the subject, and want the opportunity to meet professionals in whatever field you're interested in, then apply! And as far as 'outdoorsy' universities go, Bangor is about as good as you can get for location – it's just a great place to be."

The next Postgraduate Courses Fair will take place on Friday 28th February in PJ Hall.

Read George's full profile here.
Watch George's video profile here.
Publication date: 14 January 2014