Professor Appointed Chair of International Working Group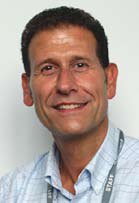 Prof Gary Carvalho.Professor Gary Carvalho of Bangor University has been appointed Chair of a working Group for The International Council for the Exploration of the Sea (ICES). He is to Chair the Working Group on Application of Genetics in Fisheries and Mariculture (WGAGFM) for 3 years from 1 January 2015.
ICES considers both how human activities affect marine ecosystems and how ecosystems affect human activities. In this way, ICES ensures that best available science is accessible for decision-makers to make informed choices on the sustainable use of the marine environment and ecosystems.
Many of its activities are organised around various Working Groups that consider specific issues relating to sustainable management of marine resources.
As Prof of Molecular Ecology, Gary Carvalho, who is based at the University's School of Biological Sciences, is ideally placed for this new role. He is a leading expert on fisheries genetics and has recently completed large European funded research programmes to adopt genetics technology to safeguard fish and fisheries.
The ICES Working Group on Application of Genetics in Fisheries and Mariculture (WGAGFM), considers how principles and applications in genetics can contribute to the management of exploited fisheries resources.
Prof Carvalho explains:
"There is an increasing awareness that genetic tools can be used both as "tags" for traceability of fish and fish products and the identification of individuals and populations as well as in a more fundamental but crucial role in conserving genetic resources.
Collectively, such information plays an important role in promoting the resilience and recovery of exploited populations. It is only through the judicious identification and monitoring of population diversity, especially those features determined genetically, that it becomes possible to develop strategies to maximise and conserve genetic resources for adaptation to environmental change."
Gary Carvalho has been a member of the ICES group for over two decades, and is delighted to have the opportunity of contributing to the ICES mission in the coming years.
In addition to coordinating contributions to other ICES activities, the Chair of the Working Group is also responsible for coordinating the annual meeting of group members, as well as developing appropriate platforms for engagement with the ICES training programme and ICES Annual Scientific Symposia.
Publication date: 6 January 2015