Professor W. B. (Bart) Banks
The school was very saddened to hear about the death of Professor W.B. (Bart) Banks on the 17th June 2017. Professor Banks initially trained as a chemist, and between 1956 and 1965 was an analytical chemist with the Central Electricity Generating Board. From 1965 to 1977 he worked with the Building Research Establishment, latterly as head of section concerned with performance and maintenance of wood components in buildings.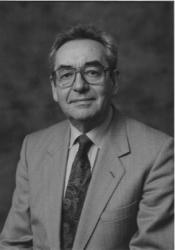 He obtained a PhD from Imperial College London and joined Bangor in 1977 as a lecturer in Wood Science, responsible for courses in wood chemistry, wood protection and adhesion theory. He was Professor of Forest Sciences from 1992 until retirement in 1997.
Professor Banks made many contributions to the development of the school throughout his career, including a unique postgraduate course in Forest Industries Technology, organised collaboratively with a degree in Paper Industries Technology run by the University of Manchester Institute of Science and Technology Department of Paper Science. This degree programme was the precursor to our current, highly successful Distance Learning MSc in Forestry.
He pioneered the undergraduate teaching of wood science in the school, and was responsible for the development of the successful degree in Forestry and Wood Science. This was an intelligent move to combine the two disciplines in response to student interest and in the interests of retaining and strengthening the timber production and processing arms of the courses.
Throughout, Professor Banks retained strong linkages to forest authorities, research institutes and industry to ensure our degrees met the needs of the employers.
Professor Banks had an international reputation in the modification of wood to enhance dimensional stability and biological resistance. He was a key player in the establishment of the University's Biocomposites Centre which continues to be world –leading in the development of wood-based materials and composites.
He sat on the editorial board of the International Journal of Adhesion and Adhesives for many years until retirement. Professor Banks had an international perspective and was most notably involved in training and collaborative research in south east Asia, particularly Malaysia. On a note of culture, he was an aficionado of opera, particularly the 19th Century Italian repertoire. He thoroughly enjoyed life in North Wales, and was an avid hill walker and landscape photographer.
He is fondly remembered by his many students and colleagues as a valued mentor and friend.
Publication date: 20 June 2017