SENRGy students attend the 2014 National Biodiversity Network Conference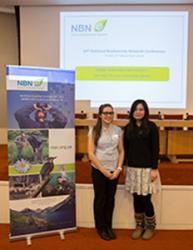 Students from the School of Environment, Natural Resources and Geography (SENRGy) have recently attended the National Biodiversity Network (NBN) 2014 Conference, held at the Royal Society in London.
Elizabeth Arnold (BSc Environmental Management) and Catherine Chen (MSc Conservation and Land Management) successfully won their places at the event through a competition run by the NBN. Elizabeth and Catherine had to submit a short written piece explaining why as students they wanted to attend the conference and the benefits it would bring.
Bangor University provided the funds for travel and accommodation and Elizabeth and Catherine headed for the bright lights of London in late November. The grand surroundings of the Royal Society hosted talks from a range of speakers from Government, non-governmental organisations and universities on biodiversity and its relation climate change, the conservation agenda and data collection.
One of the most fascinating talks for Catherine was on "data-poisoning". As Catherine recounts, "environmental agencies all over the world have no shortage of data, however, the question remains: 'Where's the relevant data for policy makers to decide on the best laws to pass through and to spark a positive change that has benefits both nature and people?'".
Elizabeth is keen to spread the word of the benefits to students of attending professional conferences; "as students the conference was extremely informative; the day ran very smoothly and was such a great opportunity for us both. We urge any students who in the future get this chance to go for it!"
Elizabeth and Catherine have co-authored an article about the event, which will appear on the NBN ENews site and a blog on Tumblr.
Publication date: 12 December 2014