Stephanie en route to dream career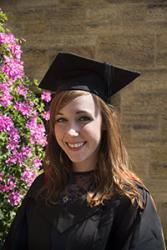 Stephanie DaviesA north Wales student who is well on the way on her "dream career" path after securing a temporary role at Chester Zoo graduates from Bangor University this week.
Stephanie Davies, 27, from Connah's Quay, Flintshire studied at the University's School of Biological Sciences for three years and graduated with a first-class BSc Zoology with Herpetology degree. Stephanie also won the Sir Alfred Lewis Prize, which is awarded to the best final-year student who has completed a single honours course in the School of Biological Sciences.
Former Coleg Cambria student, Stephanie, has experienced many different job roles since leaving high school, including positions in retail, sales, administration and health care sectors. She also accumulated voluntary experience in the animal industry, which prompted her return to education in 2010, to pursue a career in animal welfare public education. Her interest in reptiles and amphibians was piqued during her time at college, which resulted in her selection of the BSc Zoology with Herpetology degree at Bangor University.
On choosing to study at Bangor University and her student experience, Stephanie said: "The herpetological aspect of the zoology course, and its proximity to my family home, placed Bangor at the top of my preferred universities. Coupled with the outstanding surrounding scenery and opportunities for outdoor pursuits, Bangor proved to be by far the best choice for me.
"As a mature student returning to education, I struggled initially to get back into studying and coping with the student lifestyle. However, after a few months I really settled in and started thoroughly enjoying my time in Bangor. I was a member of the Herpetological Society during all three years, North West Wales Amphibian and Reptile Group in my second and third years and the Zoological Society in my first year.
"During my second year I went on a herpetological field trip to Arizona, which I absolutely loved! This involved road cruising for native herp species, developing field research skills, including species identification and note taking, radio tracking rattlesnakes, presenting to an academic audience, developing venomous snake handling skills and surveying local bat populations.
"This trip really sparked my enthusiasm for amphibians and led to me choosing my own third year external experimental project on Natterjack toads, using industry contacts I'd made during voluntary habitat management days along the north Wales coast. With their support, I was able to design and test a prototype habitat suitability index model for this rare native amphibian. I am looking to publish my findings in a scientific journal later this year.
"I'm incredibly lucky to have secured a temporary role as Zoo Ranger in the Discovery and Learning Division of Chester Zoo. This really is my dream career and I'm delighted to be gaining industry experience so soon after completing my degree. My long term aim is to continue working closely with the general public, educating people about current conservation threats and strategies.
"I feel a mixture of elation at achieving such high grades and sadness that my time at Bangor University has come to an end, but I'm very grateful to all the staff who supported me during my three years at Bangor University, and to my family and friends, without whose unwavering support I would not have succeeded in this academic venture."
Publication date: 17 July 2015