Student Led Teaching Awards 2015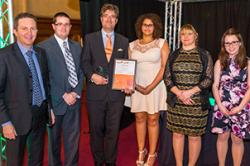 Mattias Green receiving the 'Teacher of the Year' awardThe Student Led Teaching Awards returned bigger than ever for its 4th annual ceremony, along with the much anticipated Course Representative awards
Organised by the Students' Union, the SLTAs gives students the opportunity to show their support and appreciation to staff who have shown dedication and hard work throughout the students' time at Bangor. With over 300 nominations across 11 categories this year, it is clear the student body recognises the fantastic contribution staff members have made across all services and schools.
Lydia Richardson, Vice President Education and Welfare at Bangor Students' Union, said: "This year we have seen a lot of fantastic nominations, showing that the support and experience that our staff members have is second to none. The appreciation that students have for the effort staff put into their lectures, feedback, support and guidance is clearly shown through the awards. The SLTAs is without a doubt one of the most anticipated and enjoyed events of the year for everyone."
Professor Carol Tully, Pro Vice-Chancellor, said "The SLTAs are rapidly becoming a Bangor tradition, one which is appreciated by students and staff alike. It is fantastic to see so many different staff being recognised in this way. We are very lucky to have so many dedicated individuals who go to great lengths to ensure that the student experience at Bangor is the best it can be. It is great to be able to celebrate this along with the Course Rep Awards. Our students work hard to help us improve things for their peers and their efforts are hugely valued by the University".
Congratulations to our highly deserving winners for 2015:
| | |
| --- | --- |
| Award for Outstanding Pastoral Support | Gillian Griffith , School of Music |
| Award for the Promotion of Welsh-Medium Education | Peredur Webb-Davies, School of Linguistics and English Language |
| International Award | Stephen Clear, School of Law |
| Dissertation/Thesis Supervisor of the Year | Nia Whiteley, School of Biological Sciences |
| Support Staff Member of the Year | Elizabeth Williams, School of Psychology |
| Student Service Department Award | Kate Tindle, Counselling Service |
| Postgraduate Teacher of the Year | Rebecca Jones, School of Environment, Natural Resources and Geography |
| New Teacher of the Year | Matt Hayward, School of Environment, Natural Resources and Geography |
| Fantastic Feedback Award | Sarah Cooper, School of Linguistics and English Language |
| Open Award | Coleen Suckling, School of Biological Sciences |
| Teacher of the Year | Mattias Green, School of Ocean Sciences |
Publication date: 21 May 2015